News
Leadville Trial 100 Supported by Saint-Gobain
October 12, 2012
Leadville, Colo. - (September 3, 2012) A cavalcade of amateur and professional bike racers met on the August 11, 2012, in Leadville in the heart of the Rocky Mountains in Colorado, USA, to compete in the Leadville Trail 100 MTB. Saint-Gobain, a leading supplier of high-performance polytetrafluoroethylene (PTFE) composite bearings to the bike industry, was proud to be one of the sponsors of the event this year, honoring the organizers and athletes with a Carbo-Loading Dinner ahead of the race as well as support on the big day.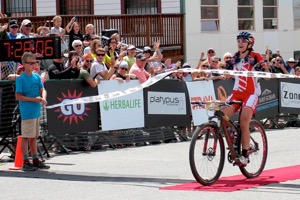 Rebecca Rush at the 2012 finish line.
The Leadville Trail 100 MTB takes place every summer in Leadville Colorado, which, at 10,200' above sea level, is the highest incorporated city in the USA. The grueling 100-mile course crosses some of the most difficult terrain in the Rocky Mountains, with some four miles reaching above the tree line. Competitors have no more than thirteen hours to finish the trail. Since the first marathon in 1994, the event has become so popular with both amateur and world-class professional cyclists that entrants are now picked by lottery. For a unique look at the course and some of the athletes taking part, please click here to watch Saint-Gobain's video.
First woman over the finish line on the day was Rebecca Rusch, her fourth Leadville win. She completed the course in 7 hours 28 minutes and 6 seconds, setting a new women's course record. Speaking at the prize giving, race organiser Kimo Seymour said, "The Leadville Trail 100 MTB is an extremely challenging course that draws talent from across the globe. We would like to thank Saint-Gobain for its support of this event. Its partnership helps to make all of this is possible".
As well as sponsorship of competitions like the Leadville Trail 100 MTB, Saint-Gobain supports bike racing through innovation of the small parts it develops for bike manufacturers. The design and composition of its lightweight NORGLIDE® composite bearings can be the key to a medal-winning performance.
For more information about The Leadville Trail 100 MTB and for the full race results please follow this link.
To learn more about Saint-Gobain's NORGLIDE® composite bearings visit the website.