News
Single Speed Category Announced for US Gran Prix of Cyclocross
Seattle's Craig Etheridge helps ring in new era at big time cyclocross races.
October 11, 2012
By Joan Hanscom
Fort Collins, Colo. - The organizers of the Trek US Gran Prix of Cyclocross p/b Greenware® and WD-40 Bike announced the addition of the Single Speed category to the overall series competition.
"We have seen tremendous growth in the size of the single speed fields - and for the past two seasons we have fielded tons requests to add the category to the Series overall competition. With so many single speeders traveling to all the USGP races we realized that it's time and we're excited to see it grow even more" said Series Director Joan Hanscom.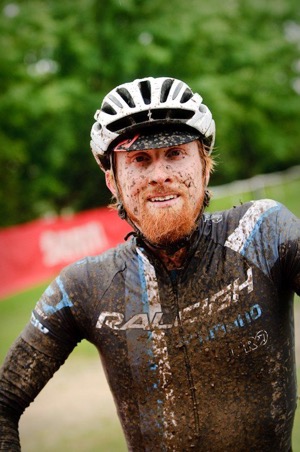 A smiling Craig Etheridge after winning muddy 2011 USGP Planet Bike Cup - photo by Lyne Lamoureux.
Last season Raleigh-Clement rider Craig Ethridge dominated the singlespeed races but because the Series did not award an overall title for the category his teammates named him the unofficial winner and held their own podium ceremony held in Seattle. This year Craig is looking forward to battling for an official podium presentation and an overall series leader's jersey.
The Title will be awarded on points earned moving forward at the SmartWool Cup in Fort Collins, The Derby City Cup in Louisville, KY and the Deschutes Brewery Cup in Bend, OR. Results from all 6 days of racing will be counted toward the series overall points tally.
The single speed category has piqued the interest of the professional racers as well. Most notably Mountain Bike racer Adam Craig dominated the inaugural US Cyclocross National SingleSpeed Championships in Bend two seasons ago. Organizers are hopeful that with a series title on the line more will race the category in addition to competing in the pro events.
For more information and complete race-day schedule visit www.usgpcyclocross.com.
The Trek US Gran Prix of Cyclocross presented by Greenware® and WD-40 Bike is a four weekend, eight race series comprised of the Planet Bike Cup in Madison, Wisc., The Derby City Cup, in Louisville, Kentucky; The SmartWool Cup in Fort Collins, Colo.; and the Deschutes Brewery Cup in Bend, Ore. They represent the deepest, strongest, and fastest cyclocross fields in a series format on this side of the Atlantic.
In 2012 the USGP is comprised of four C1 UCI races and four C2 races for the professional riders. The USGP categories are comprised of Elite Men, Elite Women, U23 Men, UCI Jrs. 17/18, Single Speed, Masters 35+ and Masters 45+. In addition each weekend features a full schedule of Kids Clinics, Amateur Categories and Expo.