News
West Thomas Street Overpass Opening Delayed
June 4, 2012
By Samantha Shimogawa
Seattle, Wash. — Work on the West Thomas Street overpass, which will provide a walking and biking bridge connecting Lower Queen Anne and Myrtle Edwards Park, has been further delayed and is estimated to be finished in July 2012. The structure is complete except for the handrails that have yet to be installed. As it turns out, the material needed for the 2- to-40-foot-long sections of railing is in high demand; therefore it is taking the Seattle Department of Transportation (SDOT)longer to import them than expected.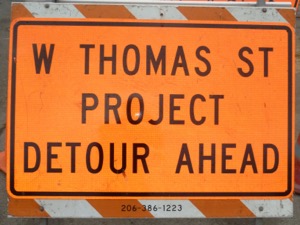 Photo by Bicycle Paper
The project, which originally began in the fall of 2003, has experienced a number of setbacks. Although the initial construction was planned for mid-2005, complications regarding the location of the overpass postponed it to 2006. Then, public debates, environmental research, agency reviews, and a lengthy permitting process ensued. During this time, costs raised significantly. Due to a lack of funding, the construction did not actually begin until July of 2011. Despite hopes that the project would be finalized by the end of the year, it was further delayed as the organizers of Seattle Hempfest — a festival dedicated to the education and promotion of cannabis — filed a lawsuit, asking for work to be rescheduled so their 20th anniversary celebration could take place on the third weekend of August in Myrtle Edwards Park. The western end of the overpass sits where the main Hempfest stage was located.
Once the bridge is in place and connected to the Ship Canal Trail, which links Fisherman's Terminal with the Fremont Bridge, pedestrians and cyclists will be spared some of the dangers of mixed-traffic transportation.
For more information on the construction and estimated timeline for completion of the overpass, visit the Seattle Department of Transportation at seattle.gov/transportation/thomasoverpass.htm.