News
Quick Release Accessory Now Available for NuVinci® N360™ Drivetrain
May 8, 2012
San Diego, Calif. — Fallbrook Technologies, Inc. ("Fallbrook") has announced a new Quick Release accessory for its award-winning NuVinci N360 drivetrain, making changing a flat tire even more hassle free.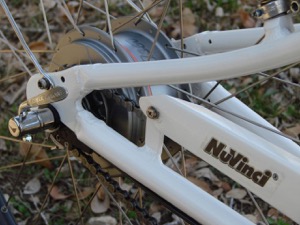 "We now have a simple and convenient way to remove the N360 wheel, quickly and easily," said Chris Vasiliotis, Fallbrook's NuVinci Brand Manager. "This accessory upgrade was developed by working closely with designers at Axle Release and offering a configuration specific to the NuVinci N360 CVP, and is now available as an OEM option or as a separate aftermarket kit."
The NuVinci N360 Quick Release can be ordered from QBP, or from Fallbrook direct, by calling customer service or e-mailing orders@fallbrooktech.com.
About Fallbrook Technologies Inc.
Fallbrook's NuVinci® continuously variable planetary (CVP) technology improves the performance and efficiency of machines that use a transmission, including bicycles, electric vehicles, automobiles, agricultural equipment, wind turbines and others. The NuVinci technology offers companies the flexibility to design and produce next- generation products that are better tailored to their unique business, market and competitive requirements.
Fallbrook has built an extensive portfolio of over 450 patents and patent applications worldwide. The company intends to continue its research and development activities to enhance the performance and capabilities of NuVinci technology. For more information, visit www.fallbrooktech.com.