News
Jedermann Gran Fondo in Cheney, Wash., Confirmed
April 25, 2012
The Jedermann Gran Fondo, scheduled on Saturday, July 21, 2012, is a chip timed 112-mile cycling ride and cycling festival that will start and finish in Cheney, Wash. The course will visit the back roads and farming communities of Sprague, Tokio, Harrington, Edwall and back to Cheney, where no rider has ventured before ... well, not exactly.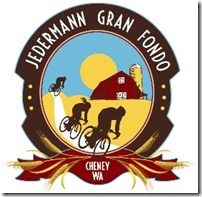 In Europe, timed recreational events have been around for decades and each country has a different name for them. In Germany they're called "Jedermann Rennen" which translates to "Everyone's Race." In Italy they call it a "Gran Fondo" which translates to "Great Ride."
"Jedermann Gran Fondo" literally translates to "Everyone's Great Ride" and this particular course is great for everyone!
This inaugural event features the fantastic riding west of Spokane and the ride is chip timed with custom medals for times under 6 hours, under 8 hours and under 10 hours. You can enter as an individual oras a 2-person relay team. It is fully supported with mechanical support, food stops, a delicious post race meal, dessert, libations, music, raffles and more. More party information to come ... stay tuned!
Organizers are partnering with three different organizations to make a difference: "Let's Move, Cheney", a national program designed to get people physically active and healthy; "Spokane Osteoporosis" raising awareness for bone health by providing free heel scans at the finish line with the great crew from Spokane Osteoporosis; and Team Running Water, whose commitment is bringing running, clean water to countries in need.
Start times:
- 8 a.m. under 6 hours
- 8:15 a.m. under 8 hours
- 8:30 a.m. under 10 hours
Please click here to see a map of the Jedermann Gran Fondo Route. You will be taken to the "MapMyRIDE" website.
---
Website: http://www.emdesports.com