News
BC Superweek Releases 2016 Dates
January 25, 2016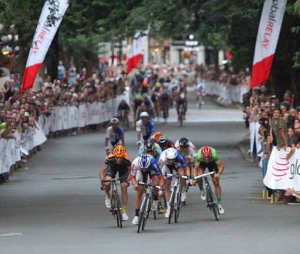 Photo by Greg Descantes
Vancouver, BC — National and international professional cycling returns to Metro Vancouver from July 8–17, 2016 with BC Superweek. Featuring eight races over ten days in seven different communities, BC Superweek is comprised of five events overall.
The Tour de Delta kicks off BC Superweek by hosting three days of racing that features the very fast MK Delta Lands Criterium in the evening on Friday, July 8, the Brenco Criterium in the historic fishing village of Ladner on Saturday, July 9, and the White Spot | Delta UCI 1.2 Road Race on the morning of Sunday, July 10, in Tsawwassen.
Following Delta, on Wednesday, July 13, is the Global Relay Gastown Grand Prix, one of the most challenging and exhilarating cycling events in Canada.
On the night of Thursday, July 14, it's the Giro di Burnaby presented by Appia Development, a criterium course centered in the colorful Heights neighborhood on Hastings Street.
The PoCo Grand Prix on Friday, July 15 is the newest addition to the BC Superweek series. The fast-paced criterium will see top cyclists speed through the downtown streets of Port Coquitlam.
BC Superweek concludes with the Tour de White Rock, a two-day points series race that includes the Choices Markets Criterium on the evening of Saturday, July 16 and one of the more challenging road race courses in North America — the Peace Arch News Road Race — on the morning of Sunday, July 17.
"We are pleased to officially announce the 2016 race dates for BC Superweek," said Race Director Mark Ernsting. "Over the next number of months, we look forward to unveiling additional details that will further enhance BC Superweek as one of North America's top series of professional cycling races."
With between 5,000 and 30,000 spectators in attendance at each event and more than $125,000 in cash prizes for participants, BC Superweek is the cycling event to attend each year. All races are free to watch and some of the most competitive national and international teams have already committed to attend this year's series.
The list of cycling stars who have raced at BC Superweek includes the likes of Tyler Farrar, Chris Horner, Alex Stieda, Davis Phinney, Svein Tuft, Brian Walton, Christian Meier on the men's side, and Leah Kirchmann, Shelley Olds, Alison Sydor, Denise Ramsden, Leslie Tomlinson and Marianne Berglund on the women's side.
If you're a cyclist or team and would like to participate in BC Superweek, please contact Mark Ernsting at 604-760-7373 or ernsting@m1sportsmanagement.com.
---
For more information, visit
Website: http://www.bcsuperweek.ca