News
Sonya Looney and Student Speakers Radiate Positive Impact of High School Mountain Biking at Annual Fundraiser
May 20, 2015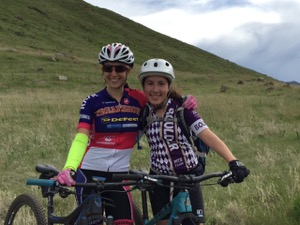 Photo by Stuart Francone
Sonya Looney with Boulder High Varsity rider and evening student speaker, Lillie Bahrami.
Sonya Looney's vibrant empowering attitude was a perfect match for the inspiring messages shared by two student-athletes to a crowd of more than 110 supporters at the 6th Annual Colorado League Cyclefest fundraiser in Golden on May 16th. The former solar engineer raced at CU while earning a doctorate in electrical engineering. The U.S. National Champion and Extreme World Challenge Winner beamed as the guest host while raising approximately $20,000 to support programming and scholarships for student athletes, coaches, and teams. Looney, a self-proclaimed "nerd" was born and raised in Albuquerque, New Mexico, now splits her time between Colorado and Kelowna, British Columbia when not traveling the globe racing or delivering motivational speeches.
The event included a casual ride with student athletes and the effervescent Looney gave tips to a few of the young riders while circling North Table Mountain. Student speaker Patrick Huffman of Buena Vista confidently stated, "I feel the positive impact on my life, every day because of the Colorado High School Cycling League. I'm not shy any more. I gained confidence in every aspect of life from talking in front of a room full of strangers, to having better posture and attitude towards life. When I have a bad day riding or a difficult practice, I realize it's a bad day not a bad life." Huffman participated all 4 years of high school, credits his success to Coach Taf McMurry, and plans to study geology in college.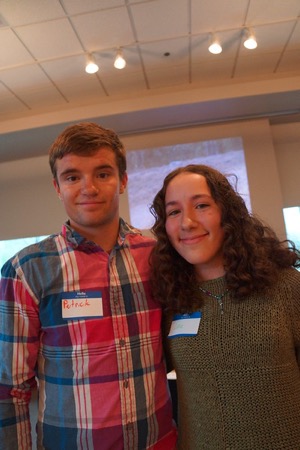 Patrick Huffman, Buena Vista and Lillie Bahrami, Boulder High move the crowd with personal stories.
Boulder High athlete Lillie Bahrami's story of being a Freshman who "...was resigned to never doing any sport voluntarily, and about as disgusted by mud, blood, dirt, and bad weather as one can get" to a Varsity competitor who is ".. a dedicated athlete who is in love with a sport that I want to keep doing for my entire life," is one of countless examples of the positive impacts Colorado League coaches have on youth. "This is the only organization I know of that's gotten over 700 kids to go ride from all over the state, and I believe that it's one of the best activities anyone can support in a high school setting," stated Bahrami.
Larry Grossman event announcer and local legend kept the evening lively and cajoled Looney about her perpetual smile during grueling endurance events such as the 10-day stage Yak Attack in Nepal. The first year women participated in the event, was 2012 and she won. This experience further ignited her desire to explore the vast hinterlands of the planet and engage with a variety of cultures. Looney espouses the view that self-confidence is gained from doing your best not podium finishes. Her advice to the audience was, "Leave perfectionism at the door and have fun."
Kate Rau, Executive Director, said, "We do not need countless research studies to substantiate what we all know is essential to positive youth development. The generous dedication of coaches, volunteers, and advocates creates a culture of camaraderie that deepens the connection to the outdoors and one another. The more we can provide access to this opportunity with a focus on fun, fitness, and mutual respect the better chance we can combat depression, substance abuse and obesity. Our mission is to be the most positive high school experience for student-athletes, regardless of their background or level of competence. The student athletes are evidence to our supporters that this organization truly makes a difference."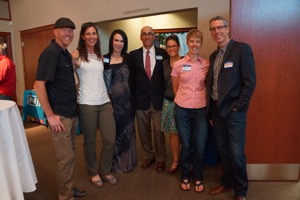 Yeti Beti crew with Larry Grossman and Chris Conroy, Yeti Cycles.
The event was supported by local Colorado League sponsors Town of Eagle, Primal Cycling Wear, Osprey Packs, RockyMounts, YetiCycles, Wheat Ridge Cyclery, In Motion Sports & Events Photography, and Bonfire Brewing and NICA sponsors OpticNerve and Feedback Sports.
About the Colorado High School Cycling League:
The Colorado High School Cycling League is an independent non-profit established in 2009 to bring mountain bike racing to high school grades 9-12. The Colorado League is an associate of the National Interscholastic Cycling Association NICA, a national governing body for inter-scholastic cross-country mountain biking. Providing a well-defined race season that promotes the formation of teams at public and private high schools. The primary focus is to develop strong mind, bodies and characters by engaging juniors in the challenging and exciting world of competitive cycling. The Colorado League has grown to over 50 teams with 711 student athletes participating from Colorado and southern Wyoming.
---
Website: http://www.coloradomtb.org/