News
Team Triumphant With Double Win at Tour of the Gila
Annie Ewart crashes, recovers, and attacks, Eric Young catapults off team leadout for double win
May 1, 2015
Stage two of the Tour of the Gila, the Inner Loop Road Race, provided a respite from the towering climb of the previous stage, and an opportunity for the flatland specialists on the team to make their mark. They outdid their double-podium performance on stage one in the only way possible – by winning the men's and women's races in spectacular fashion. Eric Young sprinted from a full team, 8-man lead out to capture his first win of 2015. Shortly after, Annie Ewart bounced back from a hard crash on the race's major descent earlier in the stage to rejoin the peloton, attack it, and eventually solo away to victory, road rash and all.
Young and Ewart's incredible perseverance and mental toughness were signs of the team's maturity and growth into the heart of the 2015 season. The 21-year old Ewart demonstrated her growing maturity and strength on the bike in an eye opening way. Eric Young won his first major race of the year, heading into the heart of the 2015 racing season.
See a photo gallery from the epic second stage.
Read a Q&A with Ewart, Young, and Performance Directors Jonas Carney and Patrick McCarty below, and see a gallery of images from Casey Gibson.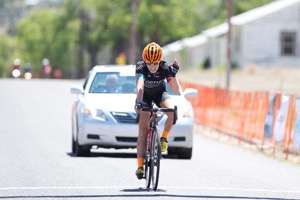 Annie Ewart, exhausted, crossed the finish line for the first big win of her career.
Annie Ewart
Can you describe how you felt today, what went through your mind throughout this whole crazy process of crashing, catching on, and attacking?
"I think I had so much adrenaline going after the crash. I was also really angry that I had gone down again (Ed. note – Annie crashed while motor-pacing before the TTT championship). Then Olivia attacked and I saw nobody was chasing so I thought, "Why the hell not?" Towards the end I was starting to hallucinate. I thought the peloton was right behind me with 1.5km to go, but I think it must have just been the motorbikes. I kept telling myself you have to win this, for the team especially. I knew they would be back covering any threats behind me. I was just so happy to get to the finish line. I had nothing left. I couldn't even celebrate – I even questioned whether I could take one arm off the bar. This is the biggest win in my career thus far. I don't think it has sunk in yet.
How are you feeling this year, your fourth year with the program?
This team is like a second family to me. I love it. I am really happy with how things are going this year. I hope it just keep going up from here.
How bad was the damage from the crash?
Well not nearly as bad as my crash motor-pacing 2 weeks ago. Just some more road rash, and a big swollen leg, but I will be fine. Tomorrow will probably hurt. I was happy to be back to the peloton, and then saw the opportunity to go and so I did. Those 10-12 km chasing on after crashing, getting back, and then attacking were the biggest blur. I probably didn't even know what I was doing.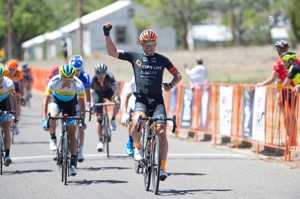 Eric Young catapults off of an 8-man leadout to win stage two.
Eric Young
It has been a tough start to your year, with some sickness in Portugal. What was your mentality like going into Gila, and particularly today's stage?
Yeah it's been a challenging year for me, personally. Getting sick and wasting an opportunity to win over the pond was definitely disappointing. However, I've been feeling a lot better over the last two weeks in Joe Martin and at home training, and I very much wanted to win a stage here at Gila. It's a big boost for the confidence going into the Tour of California and the USPRO Road Race quickly approaching. Being a sprinter that lives at altitude, I've always enjoyed the sprints here at the Tour of the Gila, and I'm very happy to finally get a win this year in one of my favorite stages in the country.
Can you describe the teamwork over the final 10K that helped you secure this win?
The teamwork was crucial to my being in the sprint at all, let alone winning it. Tom Zirbel and Pierrick Naud did a great job moving me into position after each climb in the last 30 km, which allowed me to focus on staying in contact and surviving the climb, even while I was hurting. For the finale, we had all 8 guys together on the left side of the road, with each guy doing their part to position Guillaume and I in the top ten for the final kilometer. Sometimes its hard to get every guy together, and its a beautiful thing to be at the back of a line of orange Optum helmets, knowing they are going to deliver me exactly where I need to be for the finish. And they did!
Jonas Carney
Can you describe some of the teamwork that made Eric's win possible today?
The guys rode a stellar race today and set Eric up perfectly for the win. We had all eight riders lined up in the last 5k. It was a bit of a battle with the other teams to reach the corner with 1k to go, but thanks to Will Routley we powered past the other teams and entered the critical corner at the front. Everyone contributed and it was great to see our climbers, Gaimon and Woods, hit the front to deliver Eric in the final kilometer.
Was the plan from the get go all-in for a sprint? Any threats to that during the day?
We were all in for a sprint today and hoping to not waste too much energy. The Colombian team seemed to control the race pretty easily, so things definitely worked out the way we hoped they would. It's always awesome to see the climbers sacrifice for the sprinters and vice versa. Those kind of efforts, made by guys who are not in their element, motivate everyone to rise to the occasion for their teammates and that energy just snowballs.
Patrick McCarty
Did things develop as planned today? Probably not.
"We had planned on winning the stage today, one way or another, that was the game plan – protect Jasmin's overall, and win the stage. We had a plan to cover several possible outcomes, but this one was not expected. It was pretty crazy; Annie crashed hard on the descent, barely got back in and then immediately followed an attack that got a ton of time. The peloton sat up and let them go. I spoke with Annie to make sure she was ok – that is was OK for her to actually be in the break. I told her to be conservative until the last climb and subsequent hills before the finish. Despite crashing, Annie was very strong today and managed the win just fine."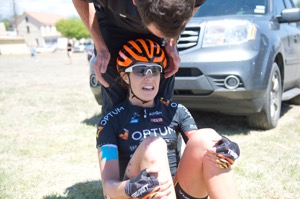 Annie recovers from her spectacular effort in stage two.
What do you think about Annie's effort today?
"Well, I know that Annie is capable of this kind of win. She's not our top sprinter, climber or time trialist so she usually works for the others. She's clearly one of our best TTT riders, and when she gets an opportunity like she did today, she's more than capable of following through, as she showed."