News
Race Report: Guillaume Boivin Second After Daring Attack, Jasmin Glaesser Third Atop Mogollon Summit
April 30, 2015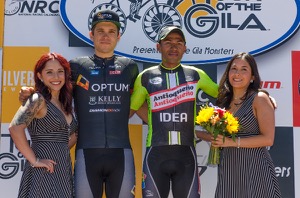 Photo by Mitchell Clinton
Sprinter Guillaume Boivin claims a surprising second place on a hilly course at Tour of the Gila 2015.
Racing concurrently, the men and women of Optum Pro Cycling each delivered a rider to the first podium of the Tour of the Gila atop a punishing climb through the Mogollon Mountains. Guillaume Boivin finished second, and Jasmin Glaesser third in the mountaintop finish.
Read a Q&A with Boivin, Glaesser and Performance Directors Jonas Carney and Patrick McCarty , and see a photo gallery from stage one.
Guillaume Boivin finished second in the men's race after riding in an 8-man breakaway for much of the stage, and eventually working to disintegrate the move on the Mogollon slope. Boivin, widely known for his ability as sprinter, left the rest of his breakaway companions behind and struggled to maintain a gap through the steepest part of the climb with the finish line quickly approaching. The Montreal native was eventually caught and passed by the surging Columbian rider Rafael Montiel, but held off his pursuers to finish second. The rest of the disintegrated peloton crossed the line at a variety of intervals off the winning pace, proof of the difficulty of the classic Gila opener.
The impressive effort by Boivin also put him into an unusual position – inside the orange King of the Mountains jersey for stage two's Inner Loop Road Race. The team's pure climbers and serious threats on the general classification, Mike Woods and Phil Gaimon, had strong finishes on Mogollon as well, finishing 5th and 7th. The result bodes well for the team heading into more difficult racing in the high desert mountains.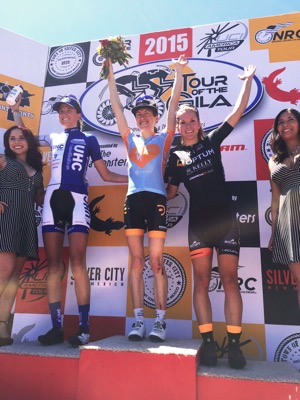 Photo by Patrick McCarty
Jasmin Glaesser takes third on the opening stage of Tour of the Gila 2015.
Although tactically a much different race, Jasmin Glaesser experienced similar fortunes in the women's race, riding her way to a podium finish after one of the first extended climbs for the women's field of 2015. The task of the day for every team was to devise a plan to unseat Mara Abbott (Amy D Foundation) on her favorite terrain – a mountaintop finish. The team's strategy was to do just that, and they animated the race early and often in an attempt to form a breakaway that could gain a meaningful gap on Abbott's team. All six riders were aggressive throughout the race, and with the base of Mogollon quickly approaching, the entire team drove the pace in one last effort to leave Abbott behind. Glaesser found herself alone on the climb, with Abbott, Flavia Oliveria, and Abby Mickey battling up the road as the slope steepened. Glaesser stayed focused, and passed a fading Oliveria just meters from the finish to take third.
The race continues, and offers very little respite, in stage two's Inner Loop Road Race. The roughly 75-mile circuit serves up nearly 6,000 feet of climbing.