News
Specialized Recalls Aerobar Sold on Shiv Aero Bike
April 1, 2015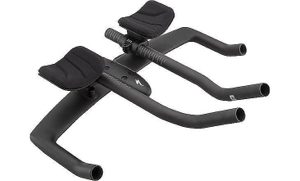 Specialized is working with U.S. and Canadian authorities to recall about 8,300 aerobars that were sold individually and as part of some complete Shiv aero bike models. The bars were sold from 2011 until February this year.
The concern is that the extension clamp bolt that attaches the aerobar extensions to the base bar may break or slip. Specialized is providing replacement hardware to remedy the situation.
The company said it has received four reports of the bolt loosening; none of the incidents resulted in rider injury.
"Customers should take the bike to their local dealer and they will help to swap parts at no charge. Riders inconvenienced will also receive $100 toward any Specialized product from their retailer," says Specialized's Chris Riekert.
According to Specialized, the corrective action applies only to aerobars sold as aftermarket equipment or as original equipment on all 2012–2015 Shiv Tri models and the 2013 Transition Apex. The recall does not apply to Shiv TT models or the Shiv Low- Stack Aerobar Clamp Set. The recall involves the carbon and aluminum aerobars.