Be a Kid Again
By Chad Cheeney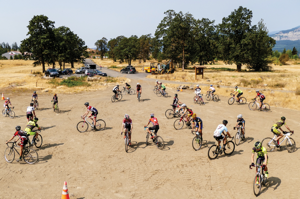 Photo courtesy of Joel Fletcher
A fun way to practice various bike handling skills at slow speed — take a bunch of riders and cram them in a small space, dabbing not allowed.
Do you remember going to camp as a kid? I sure do, as I went to basketball camp for a few summers near Detroit Lake, a Boy Scout day camp at Shevlin Park in Bend, and a five-day supported mountain bike camp around the Sisters backcountry through Big Lake Youth camp as a teenager. I remember my parents dropping me off to a group of new faces, the new smells, the awkward bed, my packed bag. I slightly remember the skills learned throughout the week — how to defend the dribble, how to whittle wood, build a jump from scratch — but the skills learned don't come to mind when thinking of those glorious moments at camp. What really pops, and what I pull from the most, is the friendships created with random kids whom I never would have met if it were not for the camps. Through these friendships I experienced the feeling of catching too much air, pulling a tick out a friend's arm, and how to puke and keep playing. We did these things together, under coaches' supervision of course, and made the most of every day. Man, to be a kid again and go to camp – writing this makes me excited for my soon to be born child!
There are numerous junior cycling camps running at the local city Parks and Recreation level, but for 2015, OBRA — Oregon's cycling governance — teamed up with two of the state's bigger junior development programs, Bend Endurance Academy (BEA) and PDX Devo, to put on the OBRA Junior Development Cyclocross Camp. Coming off the shirttails of their Alpenrose Track Development Camp in June, the 'cross camp was designed by BEA's Cycling Director Bill Warburton and PDX Devo's Steven Beardsley, along with help from OBRA's Junior coordinator Joel Fletcher. This three-day program aimed to bring riders together from across the region to have fun, ride hard, train smart, create friendships and kick off a successful 'cross season. As a region, the Pacific Northwest has very talented junior, amateur and professional riders, and this was the best chance to get the die hard 'crossers together for skill work, great rides, coaching talks and silliness.
In addition to Warburton, Beardsley and Fletcher, the coaching staff included Brennan Wodtli, a top Oregon professional who races for Speedvagen, Beth Van Orton, a Kona superstar, Portland CX coach Scott Mares, and myself. A total of 22 riders, mainly from Oregon, but with a couple from Washington and one young lady from Idaho's BYRDS Development program, made it to camp. Instead of boring you with the play by play of, "This one time at band camp," the following lists what I learned and observed as a cycling coach that can be beneficial to anyone's 'cross season.
1. Sleep
Sleep makes quite a difference in your performance. The better you rest, the faster you ride. It's really one of the bigger difference makers, yet it is so hard to crack the whip and hit the sack. If you're having trouble going to bed before ride and race days, take inventory of your pre-sleep routine and look for things that throw your bed time off. This one time at 'cross camp, the kid who stayed up late texting and flirting with one of the camp girls had messy hair the next morning, not to mention, he performed horribly in the mock race and his exhaustion was noticeable.
2. Tire pressure
Tire pressure reigns supreme and must be considered at all times. Use a floor pump with a decent gauge, pump up to a number, and then touch it. Get a sense for what 30 pounds of pressure feels like. You really must help your brain make the connection between a number and the feeling. If you check pressure before each ride from the get go, by the end of the year you will be pretty good at it. This one time at 'cross camp, one of the riders got several pinch flats in a row because he was just relying on the gauge to tell him it was at 35 lbs. But what he didn't know is that the gauge was way off and he was really running 22 lbs.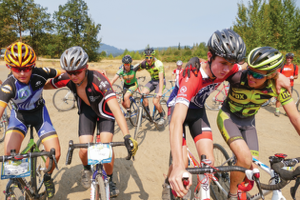 Ride while holding on to a friend — the double bikes tag drill — helps riders learn balance and gain confidence in their bike handling skills.
3. Obstacles
Barriers and run-ups make up a small percentage of each race course, yet it is very important to learn the many obstacle clearance techniques to keep flow and gain race course confidence. There are numerous ways to get over and up the obstacles, so make sure to observe/learn all of them and go out and try each method. YouTube is a great source to get a sampling of all the current techniques: the step-through, cowboy, switch, the flip-ity-doo, the drag, suitcase, shoulder and more. This one time at 'cross camp, I set some logs and stumps on the ground and we all rode over the obstacle in different ways, then someone decided it would be easier to bunny hop and then ate it big time in front of us and we all laughed, and decided it was better to dismount in the situation we had created.
4. Training your body to push its limits
You can't just go piddle around the local parks to get fast. You need training buddies, group rides, mountain bike and road races, and short track, as these things help you get that threshold speed we all want when it comes race day. It is hard to do on your own, so reach out to the friends or teams to train with and get out to local practice races. This one time at 'cross camp I was owning the barriers in practice, but then at the mock race I was so blown out from lack of fitness that I could barely see the barriers and tripped over them on my exit, causing me to penguin slide on my chest.
5. Remember the good days
Never forget the feeling of a good day on the bike. Those days when you can do no wrong: make a mental note of that special feeling. Not every ride can be like that, and there will be bad days and it is then that you must remember that a good feeling will be coming around the mountain, only if you can accept the subpar ride, and move on. One time at 'cross camp, one of the fastest juniors was feeling bad early on in a longish team road ride, so he went to the back for the rest of the ride and had fun chilling with a slower group. The next day he had forgotten about his sluggish day and was on another level.
6. Food is important
You have to eat real food — none of this riding around in circles, eating gels and sports bars all day. When training for 'cross, pack a sandwich, fruit, veggies or any other real food. Eat plenty in the morning when you wake up. Gels and bars are for getting by and for rescue days when you're stuck on the bike and bonking. Buy a box of gels and try not to use them the entire season. This one time at 'cross camp, a young fella neglected to ingest veggies and basically ate carbs and simple sugars. He never went number 2 and felt bloated and lethargic during the rides.
7. Bike fit
Have an expert check your fit. It seems obvious, but a properly fitted bike will allow your muscle groups to work better and make you faster and more comfortable. Is your stem to high or too long? Is your seat post to low or too high? Is the frame size correct? Get checked out by a local shop or ask an experienced friend to help look at your setup. This one time at 'cross camp a young girl was to big for her 26 inch kids' 'cross bike and was having a tough time keeping up. By the end of camp she was having a hard time having fun, trying to muscle her small bike around. 
8. Gain skills through games
Play games on your bike to make skill acquisition fun. Games like foot down, bike tag, sprint eliminators, short course time trials, trials (hopping around,) skid and drift contests, no braking on singletrack, the circle of death, the long jump, and more will teach you a lot. This isn't easy for adults, as you need a group to do it with, but can it be done while waiting for group rides to begin, at skills clinics, or in your neighborhood with kids. This one time at 'cross camp, a junior girl won the foot down competition finals by holding her position with elbows out – the two remaining boys bounced off of her and fell on top of each other, winning her the game and learning her the skill of balance weight distribution and absorbing contact.
With all the seriousness of learning skills and trying new training techniques comes the golden rule in life and sport: have fun. This is the most important thing for cyclists — remember to add it to your weekly dose of riding. Kids have it easy, of course, and in a camp environment it is almost impossible for them not to have a good time. But you, the adult reading this right now, think of ways to add a fun aspect to your training and riding. You might just need to go to camp and be a kid again.