Olympic Adventure Route
By Chris Stevens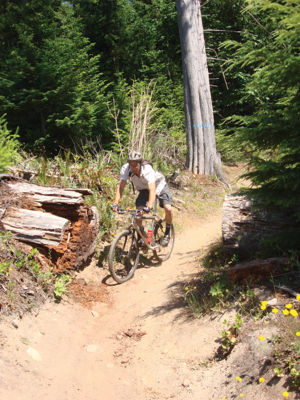 Photo courtesy of Christopher Stevens
25 miles of dirt trail to discover.
Ever dream of the trail that went on forever? A movie in your mind just before falling asleep, a place you haven't ridden yet but you hope to someday, a shaded path, timber cruising, the perfect Jedi run, trees parting to reveal distant Alps and a foreign land. Well, you don't have to imbibe absinthe or travel to Switzerland, this magical trail exists in Washington State.
Fishermen have long known not to reveal productive fishing holes, keeping the information tight until loosened by a gift of smoked cod or a fifth of rare bourbon. Mountain bikers guard their favorite trails just as closely. But no need to go to Wikileaks; trail maps of the Olympic Discovery Trail (Adventure Route) are available at olympicdiscoverytrail.com/oar/oar_overview.html.
The Olympic Discovery Trail (ODT) itself is a wonderful thing, running along rails-to-trails, dedicated bike paths, and road shoulders from Port Townsend to the Pacific Ocean, generally along Highway 101. That's great for roadies, but thankfully, dedicated Clallam County mountain bike enthusiasts (and some prison laborers) constructed a 25-mile dirt trail in Washington State Department of Natural Resources (DNR) land, with the eastern trailhead near Port Angeles, and the western trailhead on Lake Crescent, in Olympic National Park. This off-road portion of the ODT is called the Olympic Adventure Route, and the olympicdiscoverytrail.com website describes it as '"very well-constructed, well-drained, well-maintained, three-foot wide packed earth trail."
The ODT and the Adventure Route are maintained by the volunteer members of the Peninsula Trails Coalition, with a work party on the second Saturday of most months. As we rode and appreciated the beauty and flow of the trail, my ride buddy Zak and I kept saying, '"Man, this must have taken a lot of work!" Not only to build, but to rebuild after the ravages of winter.
While it isn't always three-feet wide, the trail in July was smooth and a bit loose, with rarely a sharp rock or root to lift your front wheel over. Think of the Adventure Route as the Olympic Discovery Trail's wilder cousin. No rails-to-trails trestles or packed grades here, it's an up-and-down snake ride through the woods. The only sounds you will hear are copious birdsong (varied thrush, chickadees, jays, red-tailed hawks, crows) and your own grunts as you attack the short, sharp uphills, alternating with whoops of joy as you cruise through banked turns and switchbacks on the descents.
Never having ridden the trail before, Zak and I started from the eastern trailhead, milepost zero (MP 0), and decided to ride west until we started to run out of water or had our fill of fun. Singletracks.com had noted, '"While not technically difficult it requires stamina to ride for extended distances on the trail," so I figured my lightweight-steel Rick Hunter custom cyclocross with 700 x 32 low profile knobbies would be a good test of just how burly this trail was. Zak rode a Merlin Ti 26er with suspension fork.
We headed out with plenty of water, three bottles for Zak and a 70-ounce Cascade Designs Platypus pack for me, since there is no reliable source of water on the trail until the Lake Crescent trailhead, 25 miles away. Depending on your tolerance for adventure, or intestinal parasites, you may choose to filter water from stream crossings, but be sure to go uphill if you do, as you share the Adventure Route with horses.
Since the trail is entirely on DNR land, there are no parking passes or trail fees required. MP 0.0 is at Ebb Tide Lane on Highway 112, just past the bridge over the Elwha River. Only an old western-style wooden ranch gate, labeled Olympic Discovery Trail, marks the trailhead.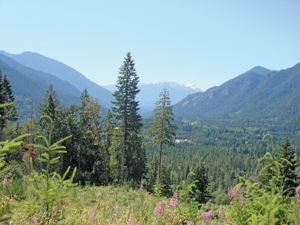 One of the priceless viewpoints.
The trail is well-marked with tall posts and a distinctive blue arrow and blaze every few miles. There are frequent metal obstacles designed to keep motorized trail bikes out, but they are well indicated. The obstacles tend to interfere with flow, but if they're the price to pay to preserve the trail for non-motorized travel, so be it. You can allegedly coast through with one pedal raised and clear the obstacle, but I don't recommend it if you're moving fast, the cold yellow steel will definitely take you out if you're not careful.
Why is it you always meet other trail users when it's least convenient for everyone? We snuck up by accident on a pair of mounted equestrians, and as lead rider, Zak was smart enough to slow, stop, dismount carefully, and ask the horse riders how they wanted to be passed. They advised we walk around them, off-trail and carrying our bikes, on the downslope side, which we did, but the horses still didn't like it, nervously eyeing us and prancing. I was acutely aware that a bike helmet wasn't designed to protect from a hoof to the temple. So be aware of horses and hikers, don't fly around blind corners at top speed, because it's their trail too, and your neck on the line.
Cougars and bears have been sighted on the trail, so educate yourself on how to deal with them prior to getting on the Adventure Trail. Some riders zip-tie a bell to their saddle as a warning to bears (as well as horses and hikers). At a road intersection, we received a bear warning from a gentleman on a 4-wheeler and passed on the information to a couple of hikers, the two equestrians and about six mountain bikers. They were the only people we encountered on that sunny Tuesday afternoon.
The DNR land, second- or third-growth after logging earlier in the last century, has grown quickly in the long northwestern summers, so most of the trail is in the shade, offering only a couple of viewpoints. The best place to relax is a broad vista of the Elwha Valley to the south of the trail, which opens up at the '"Living Room" (MP 3.5) after a gradual 500-foot climb. Further on there are broad views of the Strait of Juan de Fuca, the Race Rocks lighthouse on the Canadian side, and Victoria, B.C. Though not achieving the elevation of Hurricane Ridge to the southeast, it is definitely a ways up, and in some aspects the views of the Strait and Vancouver Island are more fantastic, as maritime traffic can clearly be seen. We saw container ships and one of the infamous oil drilling platforms on its way to Alaska.
Following 2,000 feet of climbing in 2 hours and 20 minutes in the saddle, we reached the Joyce Access Road (MP 12.5) and turned back. The return trip was mostly downhill and took only 1.5 hours, but I was righteously tired at the end. For those wishing to complete the full length, passed MP 21 the trail becomes Waterline Road and brings users along the Lyre River on its way back to East Beach Road (MP 25) on the north shore of Lake Crescent in Olympic National Park. The private Log Cabin Resort is nearby, with camping, water and food, or continue west four more miles along the flat rails-to-trails Spruce Trail to Fairholme Campground and another private store. Either place would be an excellent starting or ending point to any adventure. Enjoy! And don't take it for granted.