Nathan? Nathan?
By Maynard Hershon
Memorial Day morning. Tamar and I were walking back from getting coffee. We were almost home, passing the Governor's Mansion just across the street from our condo building. We saw that someone had built a charming miniature of the building and perched it on a waist-high pole next to the sidewalk.
It was a handsomely constructed little free library. Leave one, take one. Pretty cool.
I opened the door to check out the titles. There were maybe 15 books in there. Behind me, reading over my shoulder, Tamar almost yelled, "Hershon?!"
I thought, "A book written by someone with my last name must be in this box." And then I saw it. A copy of Tales from the Bike Shop, my first (of only two) books, published in 1989 and out of print for years, frustrating the half a dozen people worldwide clamoring for new copies.
I reached into the little library and extracted the book. It looked well-read and maybe well-loved. Warmed my heart.
In '89, I'd been writing for Winning (Bicycle Racing Illustrated) for six years, producing 12 columns a year. Those pieces were the last thing you'd read in the magazine each month. I should add that virtually all road cyclists read Winning in those pre-internet days. I was proud to be part of it.
My column was called "The Bike Shop." In the beginning, I wrote about an idealized bike store run by an ex-racer named Bob. Bob helped the regular customers and hangers-out at his shop. He had a way of leading by example. He was the guy I had always wanted to be, but couldn't be.
I got letters from bike riders from all over the country. They insisted that Bob was the owner of their local shop. How could I know so much about him? Why, as far as they knew, I'd never even visited the store.
Eventually, the fine old cycling publisher Vitesse Press in Vermont asked me to choose 50 stories, give or take, to be collected for a book. Tales was the result. It's a nostalgic read now, a relic from the days of wool shorts and wheels handmade at your local bike shop. Of friends you still have. Of cohesive rides and inclusive club life. Of knowing every bike rider in town.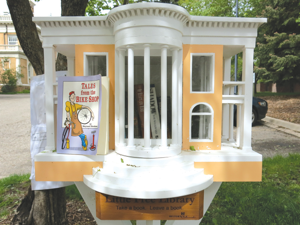 Photo courtesy of Tamar Miller
Tales from the Bike Shop found its way in the Governor's Mansion.
I never see a copy in used bookstores, and I always look. I seldom see copies in bike shops where the owner keeps a sort-of library of cycling books. 1989, after all, is a long time ago, especially in a sport with a short memory like ours. Only a few of us remember what life was like before ... oh, Strava. Sniff. (Sorry. I got nostalgic there. I'm all right now.)
Tamar and I couldn't get over discovering a copy of Tales in the finely-crafted box outside the Colorado Governor's Mansion. We took it home and saw that it has, embossed in the old fashioned way on the flyleaf, "From the Library of," plus a name and three initials.
I Googled the name. After a few minutes of fumbled searching, I found the original owner of that copy. He lives in Houston and has published scientific works of scholarship. I went to Facebook and searched for his page. As soon as I deleted his middle initial, there he was! Cory!
How in the world, I wondered, did Cory's copy of Tales find its way from Houston, or wherever he lived years ago, to this little free library in the middle of Denver? So I wrote him through Facebook and asked him that very question. I heard back a few hours later. Here's part of his email:
"The story of the book — I got it as a Christmas gift from my parents probably in the early or mid-90s, when I was in high school. I raced bikes and worked part-time at a small bike shop in Saratoga Springs, New York.
Years later I went to grad school at Wisconsin-Madison, and worked for a number of years at Budget Bicycle Center, a gigantic quirky shop right near campus. I worked there from 2004 to 2006. It was a great job at a great place. I worked with fun and interesting people.
Stories from Tales resonated with me, and I lent the book to another employee, Nathan Derge, who would have enjoyed it as well. Shortly thereafter, Nathan got a new job, got divorced, and I moved to Houston. I've since lost track of him. I'd guess he either moved to Denver or gave/lent the book to someone else who did.
Thanks for the note, made my day."
I thought I was going to tie up this column with information from Nathan Derge but I haven't been able to contact him. Evidently, from what I can discover online, he still lives in Wisconsin and still races bicycles. I've seen his name in official results from cyclocross events. He does well.
I can't find him on Facebook. I've tried to write to Budget Bicycle Center via their website but the Contact Us function failed. I found the name and contact email of someone listed as his friend on one of those Find Anyone sites, and wrote that friend asking if he'd pass my email address along to Nathan. I hoped I didn't sound like a skip tracer or someone to whom Nathan owed money.
Maybe you live in the Pacific Northwest now but you are from Wisconsin. Maybe you raced back there or knew Nathan Derge from some bike shop where he and perhaps you worked. If you do know Nathan, please ask him to get in touch with me via Bicycle Paper.
I'm hoping Nathan can tell me how Cory's old copy of Tales found its way here to central Denver, to a free library outside the Governor's Mansion, diagonally across the street from its author.
[Note: A couple of years ago, I made a Tales Kindle book. It sells steadily in limited numbers to some of the finest people on the planet. Thank you.]
Tales from the Bike Shop found its way in the Governor's Mansion.
Photo courtesy of Tamar Miller