Gravel Season Mid-term Report
By Dan Norton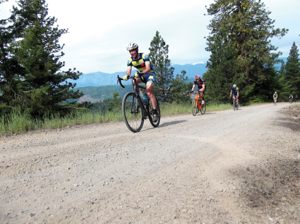 Photo courtesy of Jack Maedke
The Leavenworth fondo put participants through a full range of physical demands and emotions.
As previously reported in earlier issues of Bicycle Paper, the 2015 gravel season has gotten off to a great start. Gran Fondo Leavenworth (Washington) could be considered the "mid-term" event for the year, and what an adventure was had. The course showcased all of the various features that make a real dirt event and combined them into one day's adventure. More than 8,400 feet of climbing spread over 87 miles in heat that reached well above 100 degrees in Swakane Canyon saw Russell Stevenson post the fastest time (5 hours and 24 minutes) while the last hardy soul, Marco Desimone, covered the distance in 10 hours and 31 minutes.
A field of 200 participants left Cascade High School parking lot at eight in the morning on May 31 and started up the Chumstick Highway for a riding day that will have lasting memories. The pace at the start of the fondos is usually pretty friendly and casual, with most of the riders well aware of the large variety of road conditions and physical exertions that lie ahead. In Leavenworth, riders faced several miles of road riding on nice surfaced asphalt that gradually climbed to Eagle Creek and onto the beginning of the gravel sections at Van Creek. A long stint on a well-packed dirt road took riders to the summit of the first climb and then a rapid, bumpy descent to Ardenvoir lead to a short pavement reprieve before the next gravel climb. A rough washboard downhill took everyone to Navarre Coulee Road and the Columbia River at Entiat, where the very appreciated second food stop could be found.
Up to that point, riding along the Columbia was pleasant and with very little wind, however, the sun was shining and temperatures rose rapidly — a good prelude as to what was coming. As racers turned up Swakane Canyon Road, the real test began. Temperatures in the canyon were reported to be between 100 to 110 degrees Fahrenheit, depending on the accuracy of the thermometers and the riders' ability to read them, looking through the tears and sweat. The road up Swakane had lots of undulation and a variety of hard surfaces, soft sand and deep ruts. It hurt! Many riders resorted to walking some of it as any number of issues conspired to add a little perverse masochism to the day. Whether it was bonking, gearing, tire choice or just plain tired legs, nobody got through that section without some degree of difficulty. Many would sneak back in the middle of the night and change the sign from "Swakane" to "Cramp Canyon."
The last water stop was mercifully near the top in a very pleasant shady grove. The final descent back to the finish seemed to encompass all of the aspects of the day in one short ultimate push — washboard, rutted and sketchy sand, beautiful views and some fast pavement. Cyclists were greeted back in Leavenworth with cold beverages, food and a good pat on the back. All in all, it was a very memorable riding day. 
Already Ellensburg has come and gone and Tim Smith was the best that day; it now leaves the September 26 Winthrop, Wash., event as the final exam — or as a chance to give gravel fondo a try. 
For those considering giving this type of events a try, here are a couple of worthy notes on equipment. The most important observation is whether it is tires, gearing, frame or wheels — sometime during the ride everyone will wish for something different. There is no such thing as the perfect equipment choice.
The bicycle industry seems to be grappling with the expanding interest level for gravel fondos and it is amusing to read between the lines of hype and reality. Cyclocross bike frames have reduced clearance to meet a very silly Union Cycliste Internationale (UCI) tire requirement rule and in doing so, manufacturers have reduced the variety of usages for their frames. They are now advertising how much tire clearance can be achieved with their particular frame(s). Whatever happened to a 'cross frame that could accommodate a 40 mm tire? Consider the frame very carefully before buying.
Tires are leading the way as far as innovation in gravel events, and while there are many tread designs and tire widths, none have yet to achieve the ultimate need of all conditions. The one common theme is tubeless. Why put forth a good effort on a climb only to give it all away on a descent following a pinch flat? That descent will be painful regardless of the tire, but it will hurt a whole lot less on 40 to 50 pounds of pressure compare to 80. One caveat on tires: make sure the tire is "tubeless compatible." Trying to use a non-tubeless tire might work, but it could potentially leave you stuck out in the middle of nowhere, wishing you had not tried to make a dog work like a donkey. It can be very lonely in the woods.
Wheel manufacturers are catching up and there are many new offerings on the market. Mavic has a new wheel/tire combo that looks very promising. Stans No Tubes has been an industry leader in tubeless technology, and Easton has a new wheel that is perfect for tubeless tire usage, the EC90. As with tires, make sure the wheel is tubeless compatible.
A quick note on gearing for these events. If a fast guy like Russell Stevenson advises using a 32-rear cog for a particular event, you can do one of three things:
Ignore that advice; after all everyone can climb anything on a 25!
Don't bother to count the rear cogs, I mean a 25 looks like a 32!
Run out and buy a 32.
The voice of experience says to ignore 1 and 2, and I will in the future, and go to the bike store. The moral of the story is to go big, way bigger than you think you need. Your legs, your mind and your attitude will all have a better day.