Limar Velov Helmet
By Darren Dencklau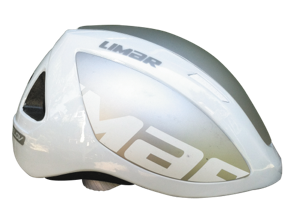 First impressions aren't always a good indicator. In fact, I've made some really bad initial impressions only to later become good friends with people I know now. The Velov is a freeride and urban helmet that comes with optional snap-in panels to cover the air vents, allowing for customization depending on the weather conditions; remove them in the summer for more ventilation and put them back on during the winter to protect your head against the rain and cold.
With this helmet, at first I thought I resembled a Stormtrooper in George Lucas' original Star Wars. Perhaps it's the white and silver model I received, or that its shape is quite round and tall. Either way, it was different than what I'm used to, which is sleek-style road helmets and more recently an Enduro-type bucket. Not one to be particularly vain, I've rocked the Velov for a while now. I've gotten used to its appearance and wear it for its intended purpose — to protect my melon.
It will easily fit a variety of skull shapes, from oblong and narrow to perfectly round and robust. The strap and Ultrafit+ adjustment system lets riders adjust to their head shape and size on a whim. Coming in at just 300 grams (with panels), the Velov is relatively light. The padding is plenty sufficient and I have yet to notice any "hot spots." If you're in the market for a commuter or park jibbing lid, this is a nice — and unique — option.
MSRP is around $75 and it comes in size medium (52–57 cm) and large (57–61 cm). Visit limar.com for more info.