Timbuk2 Especial Medio
By Darren Dencklau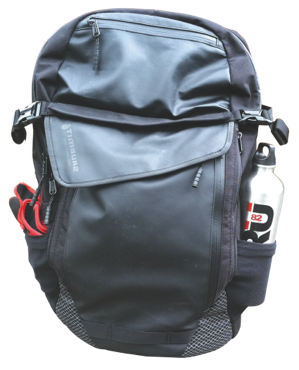 My new full-time job working for "the man" requires me to carry around a laptop computer. One to never give in to auto commuting, I needed something that could securely and comfortably portage said device. By chance, a representative of Timbuk2 contacted me at the perfect time, asking if I'd like to review one of their bags. After scoping their website, I decided on their "updated" Especial Medio laptop backpack.
This water resistant workhorse is made of Cordura and features some new reflective properties, taped seams, an improved cooling panel and a more sleek design for a better over the shoulder sight line. Numerous compartments and mesh pockets make it extremely convenient to separate items such as tools and extra tubes, computer power cables, food and drink, clothing and raingear and much more. Bonus: the inside liner in the four main compartments is blue, which equates to being able to find things easily (take note black-lined bag makers!). Two mesh side pockets are easily accessible for stowing items like gloves, a water bottle or even a small U-lock. The sectional web strap located at the exterior bottom facing outwards is perfect for attaching a flasher and the bottle opener located on the right shoulder strap is perfect for those impromptu toasts to friends. There's also a hidden zipper that is great for stashing the phone and wallet.
That first week with the Especial Medio I seemed to discover another new feature or pocket daily. Seriously, this is the most well-designed and thought out commuter pack I've owned to date. It doesn't hold "everything but the kitchen sink," but it bodes well for everyday use as well as the added bonus of having a laptop sleeve for working on the go. I really like the zipper-expandable pocket that carries a helmet as well, as it's perfect for stowing the lid on those days when I have to show up for a business meeting or when working from my favorite coffee shop. It has been bombproof so far and by the looks of the stitching and materials, I don't see it falling apart anytime soon; if it does, it's covered under a lifetime warranty.
The only discrepancy I could find with the Especial Medio is the thinness of the waist strap, but I've grown accustomed to using only the chest strap for the commute anyway since I don't carry an exorbitant amount of gear.
Timbuk2 has improved their offerings considerably over the years since those first messenger bags they introduced in 1989. I wouldn't hesitate to recommend this bag to anyone looking to improve upon their bike commuting needs, especially for the laptop carrying nerds like myself.
MSRP is $179. Available in black (tested) and white. More details can be found at timbuk2.com.