Cadence Raw Denim Jeans
By Darren Dencklau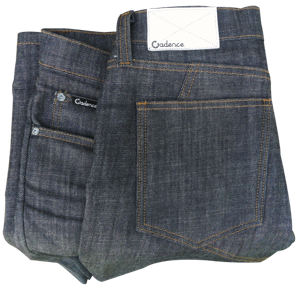 You could say it's in their jeans. Inspired from the San Francisco bike messenger and artist scene, Cadence has been around since 2003. The small company claims a "no-nonsense progressive approach to design and manufacturing product with purpose."
I've regularly had my legs inside a pair of their Raw Denim jeans for a few months now. Made of untreated 12-ounce denim with 2% Lycra™ for stretch and double layer back pockets, these tapered fit pants are thick. My first impression was that they were way too tight to be a riding pant, as the 32" waist fit me fine, but even with my skinny legs, they are snug. That said, I decided to give them a shot anyway. And I'm glad I did.
They are good looking jeans — simple, tough and without any silly stitching designs on the back pockets. As narrow as the legs are, they have broken in nicely. Little details like the reflective patch between belt loops and the reinforced crotch are keepers and set them apart from regular pants. They only offer the Raw Denim with a 32" inseam, so for shorter or really tall riders, they may not make the cut. Also, special care must be taken when washing raw denim: wash in cold/lukewarm water inside out, press to shape by hand, and hang dry.
Made in U.S.A., MSRP is $110. For more information and waist sizes available, visit shop.cadencecollection.com.