Move Seattle: What the Proposal and Levy Means for Cyclists
By Katie Hawkins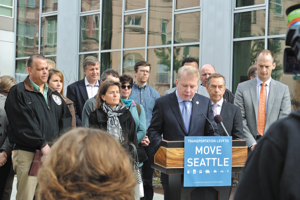 Photo courtesy of SDOT
Mayor Ed Murray speaks at a March 18, 2015 press event.
Being the fastest-growing major city in the country doesn't come without its share of problems. During the last 20 years, Seattle has welcomed 100,000 new residents and has provided approximately 50,000 jobs. The forecast for the next 20 years follows a similar trend with a projected 120,000 additional citizens moving to the area to fulfill an expected 100,000 new positions. Fortunately, Mayor Ed Murray has taken steps to help create a detailed vision to tackle the transportation needs this type of influx requires. In March 2015, Mayor Murray introduced Move Seattle, a 10-year plan that integrates transit, walking, biking, and freight transportation's immediate needs and sets the city up for future requirements. After reaching out to the community for feedback, the proposal — along with a $930 million levy — was submitted to City Council in mid-May.
The new excise would replace the $365 million Bridging the Gap Levy (BGL) approved by voters in 2006 and set to expire at the end of 2015. The levy has had a significant impact on the community. A few of the numerous accomplishments include 156 miles of new bike lanes or sharrows , 107 new blocks of sidewalk built, the completion of 48 Safe Routes to School projects as well as miles of repaired roads, bridges and transit facility investments. Since its inception, the BGL also contributed to approximately 25 percent of the Seattle Department of Transportation's (SDOT) annual disbursement.
Mayor Murray explains in his opening remarks to the Move Seattle draft that "many of our streets, sidewalks, and bridges are in need of repair. With greater demand on a street system that isn't expanding, we need to figure out how to move more people and goods in a set amount of space."
The proposal views transportation as a whole combining the various layers and needs of all roads users into one single master plan — bikes, pedestrians, freight and transit — thus reducing duplication and promoting overall cost efficiency. The backbone of the plan is anchored by five core values to enrich the city and the lives of its citizens: safety, interconnectivity, vibrant, affordable and innovative. Each of them are linked to their own sets of actions.
Some items of specific interest to cyclists, presented on a three-year timeline include:
- Adding up to 50 miles of protected bike lanes.
- Installing 1,500 bike parking spaces and encouraging business owners to set up bike racks in front of their shops.
- Enhancing bicycle commute programs.
- Launching as soon as 2015 a new Summer Parkways program, similar to what is currently done in Portland, Ore.
- Finding partners to expand bike share.
The proposal also includes a 10-year project list of maintenance and operations priorities, complete with cost projections, a series of strategic goals and a set of performance metrics to be tracked annually. Repaving and maintaining major streets to support transit, pedestrian and bicycle travel, local deliveries and other vehicles would be addressed on an ongoing basis.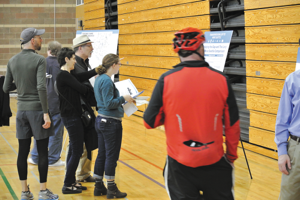 Photo courtesy of SDOT
Community conversation on March 30, 2015 at Roosevelt High School.
Specific projects, which rank high on the priority list include the Ballard to Downtown Enhanced Transit Corridor, with safety improvements to the Ballard Bridge; protected bike lanes for the Broadway Streetcar Extension, and completing the critical segment of the Burke-Gilman regional trail system, which sees up to 2,000 riders per day.
"The proposal does incorporate the current Bicycle Master Plan and keeps it on track for its 20-year implementation schedule," explains Hannah McIntosh, project manager of both the Move Seattle strategic plan and levy. She adds, "Seattle's bike network will be about half done once the 10-year plan is finished, which will be a huge milestone."
From mid-March through April of this year, SDOT collected public feedback on the draft Transportation Levy to Move Seattle proposal. To facilitate input from all ethnicities the documentation was translated into seven languages. A wide range of events including community live and online meetings and briefings, mayoral stakeholder roundtables, mass emails, coffee hours, surveys and more were organized to accommodate all schedules, income levels, ages, mobility and cultures. More than 5,300 online surveys were completed. The top three consistent messages received was that safety is the number one priority, there is a need for improvement in transit reliability and access, and the desire for a better walking and biking environment.
"Approximately 25 percent of Seattle doesn't have sidewalks," explains McIntosh. "I thought we would hear about walkability in those neighborhoods, but we heard about it citywide, even those that really have a developed sidewalk network."
One of the most surprising but consistent comments for McIntosh was the reaction to the new proposed levy cost.
"At first, people definitely thought it was a lot of money, especially compared to the old levy," says McIntosh. "It shocked me how often people would stop to think about it, and then ask if it was really enough. It came up again and again."
Following the comment gathering period, the Mayor and SDOT then worked on incorporating public feedback into the Transportation Levy and Move Seattle proposal, mainly increasing funding for neighborhood priority projects, transit investments, and pedestrian safety and mobility; in total, it was $30 million more than the initial estimate of $900 million.
Most of the community concerns were in regards to the cost to Seattle homeowners, as the levy will be paid for through property tax averaging $275 annually for nine years per house (media home valued at $450,000). In comparison, the Bridging the Gap cost was roughly $130 per year. Additional funding is expected to come mainly from increases in Seattle property valuation and total number of households contributing as well as transportation. In other words, growth will mostly pay for itself.
Additional funding for Move Seattle would come from SDOT's share of the city's General Fund, the Commercial Parking Tax, School Zone Camera revenue (used to make safety improvements around schools), the city's share of the state's Gas Tax, the $20 Vehicle License Fee, as well as one time streams like state and federal government grants and partnerships.
Some believe bicycle licensing and pedestrian contributions should be implemented, and that those living outside of Seattle and commuting into the city should also pay their share. The proposal calls for the Bridging the Gap commercial parking tax to remain in place. According to McIntosh, the "Head Tax" (employee hour tax) previously repealed by council in 2009 is being re-examined, but is not currently being implemented into the package.
Seattle City Council received the Mayor's proposal on May 12. Council is to further review and massage the list of priorities to line it up with future Capital Improvement Programs in the city budget. The Council met on May 29 to review the legislation and identify any issues they have with the proposal. A public hearing is scheduled for 5:30 p.m. on June 2 at Council Chambers, and on June 9, City Council will introduce its amendments.
"Council members have said repeatedly that they are pleased with the intense outreach that has been done," says McIntosh. "I'm hopeful that it will help them feel more comfortable with the overall package. It is their prerogative to add amendments, so we will have to see."
City Council is scheduled to vote on the final legislation June 23 and must submit the proposal to King County by August 4 for it to appear on the November ballot.
To view the full proposal and follow the latest developments, visit seattle.gov/transportation/moveSeattle.htm.