Ballard Bridge Sidewalks Prove Dangerous and Out-of-Date
By Katie Hawkins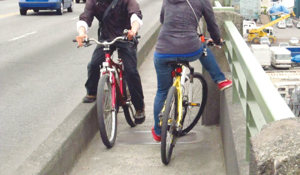 Photo courtesy of SDOT
Existing conditions — opposing bicyclists along the northbound east side of Ballard Bridge
Those who commute through the Seattle neighborhood of Ballard have undoubtedly dealt with the trepidation that comes with crossing the Ballard Bridge. Haley Woods, a Ballard resident, created a video directed at Seattle Mayor Ed Murray, Seattle City Council and the Seattle Department of Transportation that portrays some common scenarios that both pedestrians and cyclists often face when traveling along the bridge's narrow paths located on both the northbound and southbound sides.
The video shows just how dangerous it can be for those using the sidewalks, which are separated only by a short concrete barrier from the vehicles that are traveling between 30 and 40 miles per hour just an arm's length away. For cyclists and pedestrians passing each other with very little space, and the intimidating merge back into traffic for those heading southbound on 15th Ave. NW, it can be downright scary. Even experienced commuters feel vulnerable while traveling over the bridge, and new cyclists choose to avoid it. Instead, many drive their car over the bridge, park near the Ship Canal Trail, and then bike from there; as proven by the many cars with bike racks left behind by their owners in that area every morning. 
Built in 1917, the Ballard Bridge connects Ballard to Interbay, Magnolia, and Queen Anne neighborhoods, as well as provides a direct route to downtown Seattle. The bridge offers four lanes for motorized vehicles, with a sidewalk on each side that gets as narrow as 39 inches due to the concrete barriers. Separating the road from the sidewalk, the cement curb is a mere 10.5 inches high.
Woods' video provides visual examples of how easily a child could drop their toy into traffic, how a dog could jump over the barrier and how passing another pedestrian or bike can cause a cyclist to come dangerously close to the passing vehicles and perhaps even fall into the road. For wheelchairs, ADA regulations require a minimum of a 32-inch clearance, giving cyclists and pedestrians on the bridge only seven inches of remaining sidewalk when passing.
"I've also had times where I've been pulling a trailer behind my bike that doesn't fit on the sidewalk and had to use the traffic lane," says Woods. "There were cars honking, speeding by me, flipping me off … and crossing on the grated bridge and seeing the water below me was scary. It was horrible."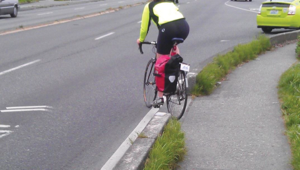 SDOTW Quadrant — bicyclist traveling southbound along west side of 15th Avenue NW at Emerson Street curb-cut.
Woods' own personal experience of falling into the road also fuels her fear of the bridge. One day, while biking along the narrow path, wind from a passing truck jarred her and her pannier hit one of the concrete barriers. She then fell over the curb into the roadway. Luckily for her, there were no cars in the closest lane at that time. However, another cyclist wasn't so lucky. In July 2007, Terry McMacken endured a similar accident and was struck by a car, suffering brain damage and an amputated right arm at the shoulder, only to pass away a year later from his injuries.
In addition to the danger of biking across the bridge itself, there is also the issue of merging back into traffic when heading south to downtown; there is a small gap in the barrier where one must wait until a car either yields to cyclists entering the roadway or they must wait until there's a large enough gap in traffic to do so safely.
Unfortunately, there is really no other economical route for those too nervous to cross the bridge. Woods mentions the 3.9-mile detour east to cross the Fremont Bridge (approximately a 22-minute ride). The other option is 3.3 miles west to the Ballard Locks (approximately 25-minutes by bike, and it is only open from 7 a.m. to 9 p.m.).
The Seattle Department of Transportation (SDOT) did a Ballard Bridge Sidewalk Widening Concept Study in September 2014, addressing the feasibility of widening the sidewalks on the bridge's approaches (the cost was estimated between $20-48 million depending on how much wider and if both sides were widened), installing a railing between the travel lanes and the existing sidewalks ($3.2 million), and providing a multi-use connector trail between the southwest corner of the Ballard Bridge, 15th Ave. West and the South Ship Canal Trail ($17.9 million). Needless to say, these aren't inexpensive options.
Since Woods released her video in February, she received a call from SDOT Director Scott Kubly. It turns out Kubly had recently biked across the bridge alongside Councilmember Sally Bagshaw, and he agreed that it wasn't a good experience. He mentioned that SDOT's study had shown how much money it would take to fix the bridge, but the video spurred them to reevaluate their focus.
Woods also arranged a meeting between SDOT and Cascade Bicycle Club's advocacy group Connect Ballard, as well as some members from the Seattle Bicycle Advisory Board to discuss short-term and long-term proposals for improvements. Some short-term ideas included removing the cement barriers that extend into the walkway on the bridge and instead adding a railing that attaches to the outside of the bridge, replacing protruding cages that cover stairwells with smaller plates, or adding a lane for bikes on the inside of the bridge.
"The bridge that raises and lowers is narrower, so you could potentially gain footage if you narrowed the traffic lanes to the width of that area," explains Woods. There were also thoughts on enforcing speed and adding better signage.
To make southbound merging easier, Woods suggests putting in a stoplight to regulate speed and give cyclists and pedestrians a safer path.
"If you do it right, you could eliminate the ramp from W. Nickerson to southbound 15th Ave., as it wouldn't be needed anymore if there were an intersection," explains Woods. "That ramp could instead be connected to the Ship Canal Trail. Pedestrians who want to get between Magnolia and Queen Anne could also easily do so, instead of taking a stairwell down and around."
Long-term ideas include SDOT's original studies of widening the bridge.
Currently, Ed Murray's Move Seattle proposal incorporates "safety improvements to the Ballard Bridge for people who bike and walk" in the Ballard to Downtown Enhanced Transit Corridor project. Currently listed third in order of priority, after 23rd and 3rd Avenue corridor improvements, it would be implemented by 2024. The planning level project budget (which also includes supporting light rail expansion and enhancements to bus routes) is an estimated $31-33 million, and may be sourced by grants and/or partnerships, and could also be included in a proposed future Sound Transit special levy. According to SDOT Plan Implementation and Division Operations Manager Kristen Simpson, a recent draft of Mayor Murray's proposal includes funding to install a railing between the sidewalk and the travel lane on the Ballard Bridge.
"I would really like if there was a possibility in the next year to do whatever they can to quickly make it safer," says Woods. "I was surprised of the number of people who said they had also fallen into the traffic lane. I don't want someone else to get seriously injured before they do something about it."
It appears that Woods' video did make a difference in SDOT's priority list.
"In spring and summer 2015, SDOT will study improving the bicycle and pedestrian connections to the Ballard Bridge from both the north and south approaches," says Simpson. "As part of this, we will be engaging with people who use the bridge, including Haley and other members of Connect Ballard, as well as members of the freight community and other stakeholders. As part of this, we are reviewing suggestions made by Haley and the Connect Ballard group."
SDOT is currently conducting a Ship Canal crossing study that is looking at alternatives and costs for a new multimodal crossing of the Ship Canal between the Ballard and Fremont bridges. This study is expected to be complete in July.
The revised Bicycle Master Plan Implementation Plan states that SDOT plans on extending the Ballard 17th Avenue greenway to Whitman Middle School and Ballard Ave. this year, while extending the project to the Ballard Bridge in 2016. As more cycling infrastructure is being created leading to the bridge in addition to numerous large-scale apartment buildings being constructed while the neighborhood's population increases, the improvements to the Ballard Bridge are proving to be a much
needed priority.
To view Woods' video, visit youtu.be/PcbStPM7wZs. To review the complete Ballard Bridge Sidewalk Widening Concept Study, go to seattle.gov/transportation/docs/BallardWideningFinalSubmittal.pdf.