Triple Eight Compass Helmet
By Darren Dencklau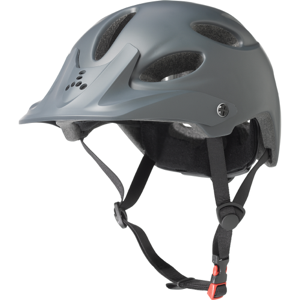 Triple Eight makes protective gear for a slew of accelerated activities. The Compass bike helmet is a lightweight in-mold designed lid that offers ample head coverage, especially in the back, and features an adjustable Fit Dial system and a built in visor — it looks so Enduro, bro.
Out of the box, I found that it better fits a rounder head as opposed to an oblong-shaped head like mine, but once dialed it was snug as a bug in a rug and quite comfortable.
I've taken it out on numerous MTB excursions as well as worn it while commuting and the vents provided adequate airflow, although I haven't tested it out in summer conditions — yet. It's bulkier and heavier than my road helmets, but not by much, and the added protection gives me confidence on the wet and slick trails found in the Northwest.
Overall, it's a winner. It does what it should and aesthetically the bright orange model I have often gets the attention of my riding buddies, as several have asked me, "Who makes it and can you get me one?"
MSRP is $75 and they come in gun matte, black matte and orange glossy colors. Visit triple8.com for more details.