Ride Smart: Avoid Common Overuse Issues – Part 2
By Kari Studley, PT, DPT, CYT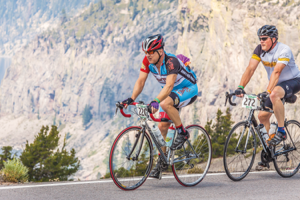 Photo courtesy of Brian C. Gailey
Prepare adequately to avoid overuse injuries and attend rides such as the Crater Lake Century on August 15.
If you are training for a major cycling event, personal goal of increased total mileage, or achieving a certain endurance distance, how you train will be a critical factor in meeting those goals injury free. The common overuse training issues of "too much, too soon" and "training for endurance events with only one weekly ride" were presented in the March 2015 edition of Bicycle Paper ("Ride Smart: Avoid Common Overuse Issues"). This month, we'll build on ride smart concepts through exploring how to further avoid common overtraining and overuse issues.
Issue: Inadequate physical preparation for cycling demands. Hopefully this will be less of a season-limiting factor in 2015 with the record-setting mild winter conditions in the Northwest. Generally this issue applies to those who only start riding consistently outdoors when the weather becomes favorable. The challenge that comes with waiting for the sun and mild temperatures to dictate the start of training for endurance cycling events means that the body is only given four to eight weeks to prepare for the ride. Another common mistake is using group stationary spin classes as primary training for outdoor biking. While stationary bicycles at the gym facilitate biomechanics and are great cross training, it is often in a different position and ergonomically inconsistent with the muscular, balance and skill demands of outdoor riding. For example, it's pretty hard to turn corners on a stationary bike.
While riding a bike seems simple enough, it is actually a skilled sport with its own flexibility, strength and coordination demands. Similar to mastering a jump shot in basketball, the skill of effective pedaling is one that takes physical preparation and a lot of practice. This is especially true if new to the sport and endurance activities in general. There are plenty of ways to develop flexibility, strength and neuromuscular coordination both on and off the bike. One of the best ways to help the body adapt and learn the necessary skills is to simply road ride more frequently and consistently — regardless of the weather.
If you are a less-than-flexible person, it is important to stretch and establish a basic stretching routine. This will not only prevent musculoskeletal overuse issues such as muscle strain and tendonitis, it will help the body better tolerate the cycling position and allow to progress and achieve the set endurance objectives.
Issue: Focusing on speed work when the event is endurance focused. If your primary goal is to participate and finish an endurance cycling event, regardless of the time it takes to do so (within the event timeframe of course), does it really make sense to add "speed work" four to six weeks prior to the event? For most major cycling races, everyone gets a photo finish. Sprinting to and across the finish line will likely be unnecessary.
High intensity cycling (including strenuous repetitive hill riding) without adequate physical and progressive training preparation is often a great recipe for musculoskeletal overuse injuries. Unfortunately, when "speed (or hill) work" is added within weeks of the major endurance event, those injuries often manifest just before it and limit the ability to participate and comfortably enjoy the ride.
Issue: No riding plan or pacing strategy for the cycling event. If completing a long distance event is the goal, plan and train accordingly with an endurance preparation focus. Developing a pacing strategy is also important both in training as well as for the event itself. It is easy to get caught up in the group's energy and excitement during the early phase of ride and cycle at a much faster pace than during training (sometimes at the expense of not being able to finish). Setting a basic endurance pacing plan, such as an average speed goal or time to each rest stop, can help ensure successful event completion and reduce the risk of muscular strain from riding beyond your preparation.
Bottom line, following a basic endurance training plan which simulates the ultimate cycling event goal and gradually progresses in distance, physical adaptation, coordination and cycling skill development will help you enjoy a full cycling season and avoid common overuse injuries.
Kari Studley, PT, DPT is a 2013 Masters Cyclocross World Champion, a 3-time National Cyclocross Champion and one-day STP rider. With over a decade of endurance cycling experience, she specializes in cycling biomechanics and injury prevention at Corpore Sano Physical Therapy (CorporeSanoPT.com) in Kenmore, Wash. Corpore Sano PT is an orthopedic and sports physical therapy practice specializing in treatment of overuse injuries and sports performance. Contact her at 425-482-2453 or
Hello@CorporeSanoPT.com