A Chat with Inga Thompson
By Dave Campbell
Three-time Olympian and ten-time U.S. National Champion Inga Thompson was inducted into the United States Bicycling Hall of Fame last October. She burst onto the scene in 1984, making the Olympic Team after just a few months in the sport. Tall and lean, Thompson excelled in difficult and mountainous road and stage races as well as time trials. She retired from cycling in 1993 while still at the height of her abilities and with little fanfare. She has since quietly gone about the business of raising cattle and Friesian horses on her eastern Oregon ranch while also raising her son. Thompson has recently broken her silence on why she stopped racing, gotten back on her bike, and become a very important and vocal voice on doping as cycling tries to move forward. We caught up with her prior to her induction.
Bicycle Paper: You made the 1984 Olympic Team while in your first year of cycling, starting in March and making the team in July, is this correct?
Inga Thompson: That's how it started out. I really kind of took to the bike. It was my thing. I was 20 years old, had recently gotten out of running and really did just a handful of races, then the Olympic Trials. My fourth or fifth race, I met Marianne Berglund and Connie Carpenter and got on the Levi's/Raleigh team, competed in a national level event and then went to the Olympic Trials. I didn't catch the attention of the national coaches until the Trials. I was first alternate, but Cindy Olavarri tested positive for drugs and that is what put me on the team. That was my first experience at the national level … and it was "Oh, someone tested positive for drugs!"
BP: What results are you most proud of?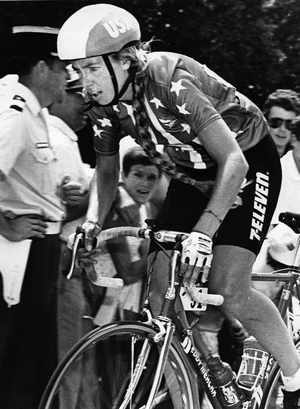 Photo by John Pierce / PhotoSport International
Inga Thompson - Tour de France Féminin.
IT: Probably a race I did in France at the same time (1988) Andy Hampsten was winning the Giro d'Italia. There was a race for the women in the Alps called the Tour de la Drome. There was one stage with two mountain passes and it started to rain and then snow — that's the same snow storm Andy rode through to win the Giro. It was me, Cecile Odin, I think, and Jeannie Longo off the front. Being able to keep up with Longo on the climbs and then beating her at the very end was a real highlight. Our derailleurs were frozen, our brakes were half ice-covered, going down these hellish mountain passes with your bikes not working and then being able to outsprint her for the stage win, I think that was one of my favorite races. At the end, we were so cold; these little French people just stripped us down and wrapped us in blankets. Another was Epinal, a four-day stage race in France in 1992 when I rode Longo and Leontien Van Moorsel off my wheel.
BP: I met you when you raced with the men in the Tour Willamette in 1993. Did you do this often? What was behind this?
IT: That was a hard race I remember that! I remember being off the back more than once. I did race with the guys all the time. Every chance I got. For me it was one of those no pressure things, you could just go as hard as you could. I had this philosophy of keeping my best efforts for the races that really counted, and I loved being able to race with the men and not have any pressure to win, just get in the best workout possible. That way it kind of left me mentally fresh for when the big women races came along. I wasn't very good at putting in my best effort for women's events that weren't big races, and that doesn't always look good for the sport.
BP: Why did you stop competing?
IT: I got forced out. Mark Gorski (then National Coaching Director) kicked me out. In 1993 I spent most of my time competing with the men, did some mountain biking and then went to the National Championships; it was the first time I had raced with women that year. That course was a hard and hilly. I was racing for Kahlua and I was off the front. The team director said, "One of your teammates is back there struggling why don't you go and get her." So I went back, got her (Karen Kurreck), let her sit on my wheel on the flats and waited for her on the climbs — we finished first and second. Winning the Nationals gave you an automatic spot for the World Championship team. Gorski called me right after the event and said, "We don't want to take you to the Worlds because we don't know what your fitness level is." I felt my performance answered that and he responded, "We don't really know what you have been up to." I felt I wasn't an unknown quantity but he continued, "You're not a team player." I referenced the situation with Karen but he said, "That's not what I mean." He told me, "I am changing the rules and you can't go. If the next races you go to, you don't win, then you can't go [to Worlds]." And I replied, "But if I win them, then I won't look like a team player." He said, "Exactly." I told him it was a catch-22 and he said, "Yeah, you got it. Next year we won't have any automatic qualifiers, it will all be coaches' selections, so I highly suggest you just put in your resignation." And that was that.
I refused to do an interview about my retirement because how do you do an interview like that? I left so pissed off that I couldn't see straight. I could see the writing on the wall back in 1990 when they brought in a really great Dutch coach, Rinus Verboon, and the others were really so-so. Coach Jiri Mainus wanted to get rid of me, and Rinus wanted to develop the team around me. Jeanne Golay had tested positive but ended up coaches' selection the next year … it didn't take a rocket scientist to see where this was going, so I started to stay away. All women at this level are headstrong, but I was seen as difficult because I stated my intentions of wanting to race international stage races and not little thirty-mile criteriums. It felt like a constant catch-22. It really was about racing the races where the Federation was getting paid. If I want to go do the races that would be best for women's international cycling, I would get penalized? It wasn't even politics, it was about money for the Federation. I was fighting a system I shouldn't have had to fight.
[Editor's note: When contacted for a similar article published in June 2014 in "The Outerline", Mark Gorski said that he did not recall the specific details of this event, but did not remember anything as being particularly significant or unusual.]
BP: Do you still ride much?
IT: I had not been on a bike in twenty years! Last summer was the first time. I rode my Columbus SLX 8 speed 7-Eleven Team bike from 1989 twice, and then this summer I pulled out my bike and thought I really want to start training again. And I did, I forgot how much I really missed it. I love cycling, I mean, I really love it. But I just couldn't stand to look at a bike for about twenty years. What kind of half piqued my interest was the whole doping thing, and I kind of started following it again. Just out of interest I thought, "Wow, is this actually going to get exposed … or covered up." I spend ten years of my life racing and I just loved it. I was passionate about it. I lived, ate, and dreamed cycling. It was all I did.
BP: As an elite professional women racer in the 80s and 90s did your sponsorships allow you to be a full time athlete?
IT: It did and I was one of the very few. I didn't have to hold down a job, I could just focus on training. But I had to work hard for it with 7-Eleven, whose directors didn't really want to have anything to do with a women's program. Then there were side sponsors, I had some Casinos and In Motion clothing and a few small things like Bell Helmets that supported me. This was important because I always challenged the system with the National Team Program but I had enough talent that they couldn't kick me off the team. It may sound a little intense but I thought, "If you aren't puking at the end you didn't go hard enough!" Hail, cobbles, mountains, that is when I was really most in love with the sport. And for me that level of racing was in Europe.
BP: What "brought" you to cycling?
IT: I was a good but just not going to be a great runner. I hesitate to even say very good in college. In High School I think I had nine individual state titles in Nevada, and ran cross-country and track at Cal Poly San Luis Obispo. I still got 4th in Nationals but the writing was kind of on the wall. I was never going to be great at it, too tall, too gangly but on the bike … it ended up being the perfect combination for cycling, I just kind of took to it.
I got injured in college and started riding my dad's beater Schwinn around in the middle of winter. I was riding the Turbo Trainer and watching the Olympics when they announced there would be a Women's Tour de France, I said, "That is what I want to do." So, I thought I would go to a bike race and see what I needed to do to qualify for the Women's Tour. When I made the Olympic Team, in all honesty I was disappointed because I wanted to go to the Tour and had to choose one or the other. My dad was like, "Oh, this is the first ever Women's Olympics you need to do this. You can always do the Tour next year." I still regret that, I would probably have a lot better credentials now if I could have won that first Tour.
BP: What are your thoughts on the Bicycling Hall of Fame Induction?
IT: I avoided George Mount when he first came to me with this, because when I looked at the roster I told him you've got dopers in there. But he told me there was a new bylaw and they weren't doing that anymore. It took me two months till I could tell anyone.
BP: You have very strong opinions on doping which you have shared recently. Can you share some thoughts? What shaped these views?
IT: Sometimes the blindness of people to doping just stuns me. "Oh, they were such a great riders, they were so exciting. It's too bad they doped." Don't you get it? Don't tell me she's an exciting rider that is what drugs do. At that level the differences between racers is so small and when suddenly a rider just takes off, it's not like they got a new training regime. Can't you put two and two together? I get a little opinionated in this area, sorry.
After the Olavarri thing in the Olympic Trials, my next big race was the Coors Classic. They (national coaching staff) were blood doping the athletes. I was there and despite making the Olympic Team, I had never had a National Team Coach even talk with me. I still remember, as a first year racer having never done a stage race in my life, and Eddy B had them motor paced me on the rest day. I was incredulous. It didn't give me the moral clarity to want to work with the Federation and then next thing you know they've doped half their athletes. Needless to say I was pretty leery and did anything and everything to stay away. And if that's being difficult … I don't know what to say. I just tried to be clear with them.
BP: What shaped these views? A lot people get blinded with wanting to be part of the game and just end up doing whatever it takes to get in there.
IT: When I was injured in college, the coaches wanted me to do some Cortisone shots in my ankle and I said, "No! I am only a Freshman, I need to take time off and let this heal." They had this more short-term view of "well we need your points to win Nationals" and so I was basically relieved of the team because I wouldn't "do what it took to be on the team." So I started riding the bike.
I have to blame the way I saw the world on my dad. He was a doctor and was just one of these no-nonsense men. He grew up on a cattle ranch with absolutely nothing. He didn't talk very much but just every now and then a brief reference of wrong and right. As a daughter it seemed like the only way I could get his love was to be a person with strong morals and ethics that he could respect. Not very often, he would comment on work ethic and people who would cheat and wouldn't cheat. He valued worth ethic and not cheating. It wasn't ever in reference to drugs, just putting in the long hours and making your way in the world through hard work. That left a strong impression on me as a young girl. As a full time doctor, I didn't seem him much but tried to get his attention by being the hardest worker in school, in training, and on the cattle ranch.
BP: I worry that, for the general public, it is just too easy to "pin it all on Lance" and ignore the big picture.
IT: This is not about Lance. Yeah, Lance took it to a whole new level and there was an infrastructure that allowed him to do that, but there was a system in place before Lance came along and without that infrastructure, none of it would have happened. That is what my article on "Crankpunk" was about … why are the men that put it all in place are still in power? Nothing is going to change until those men are out. How did Jeannie Longo, whose husband was busted with EPO "for the family dog" get away with not having a lifetime ban like Lance did, there was just no one willing to go there. I worry that nothing's changed. Take Gregory Strock and the Junior riders who were injected by Carmichael and the National Team; they can just settle out of court for doping kids? Why aren't more people outraged? If Brian Cookson (International Cycling Union president) handles all the doping issues in-house rather than handing it back to the federations, maybe they will start reprimanding them. Or it could just become more in house than we ever thought with just lip service. Makes you wonder, I don't know.
BP: In your opinion, what is the state of women's cycling today?
IT: For me, I just find it incredibly disappointing to hear the same thing I heard when I was racing. "Oh the women's sport just needs to develop a little more" and they just kind of brush it off. It really cracked me up to hear UCI President Brian Cookson
say, "Women just can't race the distances" because Kathryn Bertine wants to get a women's Tour de France going. That's funny, did you know there was a women's Tour de France and we could do the distances? It's one of those things that get lost in a generation. I said not only can we do the distance, but in 1986 the overall women's winning time was only 0.6 of a mile per hour slower than Greg Lemond's winning time. So, not only can we do it, but we did it as fast as the men did. Then you hear arguments that the women's race was shorter, but that often meant we didn't have the 50 miles of flat prior to the three mountain passes. You can also argue that the men had 200 riders and we only had 120 of which only 30 were powerhouses. We did it and we did it well.
BP: What could or should be done to help women's cycling grow?
IT: What I would like to see, and I was contacted by the Women's Cycling Association, is not grass roots but rather to enact a change in the upper level. If there is an upper-level men's race it should be required that there is a women's race of the same caliber to go with it. Kind of build it and they will come. It's like "women can't do the Tour de France" but we did and almost as fast as the men. Why is it not there anymore? I think that if it was required … people used to think women couldn't play tennis but now it would be unheard of to host a Grand Slam tournament without the women, which is as popular as the men. So at the international level, the UCI needs to have the ability to say, "have a women's race" as we know these events are already financially successful. In Baker City, the women race the same distance and have the same prize purse as the men do, but its not on the national calendar because it is not a USAC funded race.
I love getting older, it doesn't scare me anymore to go talk to the big guys. When you are racing and at the top, you are kind of beholden to the federation but I am not anymore.
BP: Any regrets?
IT: There were just a lot of politics in the National Team Program. I didn't want to be a "paid monkey," I just wanted to race my bike. Knowing the drugs were there felt sort of defeating before the race even began. But in hindsight, I am very proud of what I accomplished, as there was just no way to compete against the drugs. Some of the results achieved against riders on a full doping program make me go "wow, what if…"
I only regret that I didn't push harder to go to the Tour de France more often, I don't have that "gold medal" or that "claim to fame" athletically from my career. Also, that I didn't speak out more for women's cycling. So maybe not as much accomplishment wise, but not being politically connected to fight for women in cycling. Now that my son has graduated and that I have settled things with my family's estate, nothing is stopping me; I am not beholden to anyone and I want to help the sport evolve.
Inga Thompson — Career Highlights
• 3 US Olympic Teams (1984, 88, & 92)
• 3rd 1986 Tour de France Féminin with 2 stage wins & QOM
• 1987 National TT; RR, and TTT Champion; 2nd World Championship TTT; 2nd Pan Am RR
• 1988 National RR Champ; Winner Olympic Trials; Winner Coors Classic; 8th Olympic RR
• 1989 National TT Champ; 3rd Tour de France Féminin
• 1990 National TT & TTT Champ; 1st Ore-Ida Challenge; 2nd World Championship TTT
• 1991 National TT (National Record) & RR Champion; 2nd World Championship RR
• 1992 1st Olympic Trials; 2nd National Championship RR; 1st National Rankings
• 1993 National RR Champion