Midfoot Cleat Position?
By Erik Moen, PT
There has been quite a bit of discussion with regards to midfoot cleat placement, i.e. positioning the cleat at the middle point of the shoe's sole. There have also been claims of increased power and economy related to the use of this placement. The idea has been popularized by a well-known coach who has hypothesized that decreasing the load on the calf will significantly affect economy. This positioning involves adaptive changes to a shoe, which may include re-drilling.
A research paper in 2006 by Van Sickle and Hull looked at an aspect of cleat positioning in an aft (back) position. This study looked at midfoot cleat position versus the standard cleat position. They used three different positions in the test; standard, midfoot and aft. Economy was calculated during a steady state performance test at 90% of ventilatory threshold and at 90rpm. Handlebar and saddle height were controlled to avoid irregular, unaccustomed muscle-firing patterns from the hip and leg during pedaling. The study showed that VO2 (economy) was not affected by differences in cleat placement.
Another aspect looked at was the performance decrease on the plantar flexor muscle group (the calf) as a function of changing cleat position. An additional evaluation of the calf musculature while pedaling demonstrated that those muscles primarily transfer force from the hip and knee extension moments (Zajac et al., 2002). It was found that the muscular demand on the calf decreased by 30% and 65% for the mid and rear foot cleat positions. The standard position allows the calf to contribute 7.5% of the total work to complete one crank cycle of pedaling. Moving the cleat aft on the shoe shifted the muscular demand to other muscle groups (other than the calf) in order to maintain consistent levels of economy and power.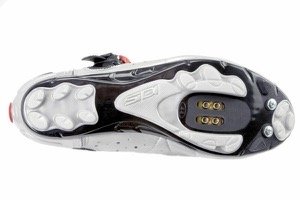 Midfoot cleat placement may mean re-drilling into a brand new pair of shoes. Is it worth it to you?
Some challenges with assuming a midfoot stance position include:
• Not all shoes have uniform bottoms and are thus difficult to place a cleat flush to the shoe.
• Drilling can add areas of weakness to a cycling shoe.
• Toes overlapping with the front wheel is increased.
• Difficulty with bunny hop (think of hopping off the floor from a flat foot).
• The ability to move the bicycle will help keep you upright on the road.
• More difficult to locate and engage cleat (clinical evidence).
• Midfoot cleat position is best utilized on less technical racing and training.
Some people pursue a midfoot cleat position due to pain issues with their feet. Before you try changing placement, ensure that your cleat and/or foot position is appropriately located over the pedal in relationship to your hip width; this considers cleat fore/aft, medial/lateral placement, rotational bias and width of stance (related to Q Factor). You should also consider the inclusion of an appropriate foot bed/orthoses to meet your individual needs. Your chosen pedaling cadence will influence foot comfort. Low, high force pedal strokes/cadence will overload the plantar aspect of the foot. Choose higher pedaling cadences for well tolerated endurance bicycling.
An assumed aftward or midfoot cleat position is typically pursued when other attempts to improve comfort and biomechanical advantages have been exhausted. Medical conditions that would benefit from a more aft-positioned cleat include neuroma, chronic plantar fasciitis, Achilles pathology, chronic calf strains, adapting severe leg length differences, and neurological/orthopedic issues involving the calf musculature and ankle.
An easy way to adapt a more aft-positioned cleat is to use Speedplay's fore/aft adapter kit. This machined aluminum plate allows a near midfoot position on most 3-bolt road shoes. This adapter plate will require you to use Speedplay pedals (X, Light Action, or Zero). Recent road shoes from Mavic and Adidas assume a more forward bolt pattern — not a shoe to consider if you are looking for a more aft-biased cleat; they do work well for the younger, strong road and velodrome cyclist. If you prefer to re-drill your shoes, measure twice and drill once — you are on your own at this point as this action will nullify the manufacturer's warranty. You will need T-nut bolts, which can be attained at most specialty hardware stores.
There are not economical gains in performance bicycling by assuming a midfoot cleat position, and this placement is rarely used to accommodate a pre-existing medical condition. The assumption of a midfoot cleat orientation is somewhat impractical and somewhat unsafe for normal endurance road riding, so think twice before you drill.
References:
Van Sickle JR, Hull ML. Is economy of competitive cyclists affected by the anterior–posterior foot position on the pedal? Journal of Biomechanics 40 (2007) 1262–1267.
Zajac FE, Neptune RR, Kautz SA, Biomechanics and muscle coordination in human walking. Part 1. Introduction to concepts, power transfer, dynamics, and simulations. Gait and Posture 16 (2002), 215–232.
Erik Moen PT is the owner of Corpore Sano PT (www.CorporeSanoPT.com) in Kenmore WA. He is recognized expert in the field of bicycle biomechanics and bicycle-related injury intervention and treatment. Corpore Sano PT is an orthopedic and sports Physical Therapy practice specializing treatment of over-use injuries and sports performance. Contact us at 425-482-2453 or FixMe@BikePT.com
You Might Also Like