Cycling: Bad for the Bones?
By Katie Hawkins
A hard crash on a bike could be enough to break anyone's bones. But in the last few years, studies have shown that speed may not be the only culprit. Researchers have found that because cycling is a non-weight-bearing exercise, it can put riders at risk for osteoporosis.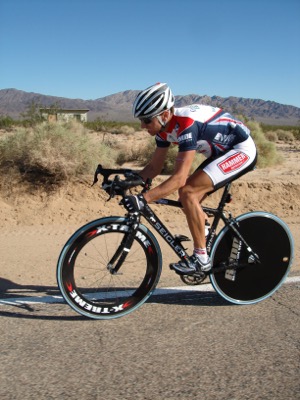 Photo courtesy of Chris Kostman
Osteoporosis can affect both men and women. Ultra cyclist Michael Emde found that out after a bone screening revealed that his spine was twice his age.
To build strong bone mass, the skeleton needs "bone loading" exercises, or weight bearing activities such as walking, running or jumping to build bone density, as it reacts to external stresses. Sports such as bike riding and swimming have little to no loading qualities for the spine, and though both are fantastic workouts for cardio health, they don't do much to build skeletal strength.
Researchers estimate that about one out of five American women over the age of 50 have osteoporosis. About half of all females over the age of 50 will have a fracture of the hip, wrist, or vertebra.
However, a common misconception is that osteoporosis is simply a disease common in aging women, as low estrogen causes bone deterioration. Studies have now shown that all who use cycling as their only form of exercise are at risk, including men.
"Men are just as much at risk as women," says Marla Emde, certified coach with USACycling and USATriathlon and organizer of osteoporosis awareness-focused events. Her husband and coaching partner, Michael Emde, a category 1 USA Cycling racer and ultra-endurance cyclist, recently had a bone screening and was told that, at the age of 42, he has the spine of an 80-year-old.
After receiving the diagnosis, the couple changed their approach to training, adding a couple hours of walking or running per week, and drafted a program that maintains strength training year-round.
"During the season, it's very difficult to fit it in the extra workouts. But it is mandatory and you have to make time for it," says Marla.
The Spokane Osteoporosis Center recommends 30 minutes to an hour, four times per week, of weight-bearing exercise. Safety and fall prevention, however, are key, so many of these activities are not practical for men and women who have been diagnosed with osteoporosis or have had fractures in the past.
Precautions can also be taken with younger riders to help prevent such problems down the road. Bones keep growing and do not reach their peak density until the age of 30, so if adolescents and young adults aren't cross training or getting enough calcium, they are more likely to have issues later in life. Other factors more common to youths such as steroid treatments (illegal use or prescription use for asthma or allergies) also contribute to osteoporosis. Further causes include eating disorders, rapid weight loss, irregular menstrual cycles, low calcium intake, smoking, and drinking excessive amounts of alcohol. Family history also plays a role. If a parent has osteoporosis or has broken a hip, the child's likelihood of fracturing is tripled.
"To build a healthy amount of bone density before reaching the peak, I recommend taking 800 units of vitamin D or 1000 units a couple times per week and 1200 mg of calcium within your diet so you don't have to take calcium pills," advises Dr. Lynn Kolmeier, Spokane-based endocrinologist and member of the Executive Board of Washington Osteoporosis Coalition. "Don't just double your calcium intake, as that doesn't necessarily build bone mass." Of course, there are exceptions for people who get kidney stones easily or those with calcium abnormalities, so make sure to talk to your doctor first.
Another factor that contributes to osteoporosis in cyclists is caloric intake and sweating. A rider can lose hundreds of milligrams of calcium an hour through sweat. Avid cyclists may not be consuming enough calories to offset what they burn, depriving their bodies of bone-strengthening nutrients such as calcium and vitamin D. Researchers also suspect that drinking calcium-enriched waters or sports drinks during long, hot bike rides may help to stave off some bone loss. These caloric shortfalls could also trigger physiological problems such as lower levels of estrogen in women, and testosterone in men, both are hormones that have protective effects on bones and slow the rate of breakdown.
Unfortunately, after 30 it becomes difficult to build bone density solely by exercise. The proper medications, vitamins, and weight bearing activity must work together to get bone density where it belongs.
The most often prescribed medication for osteoporosis today is a class of drugs known as bisphosphonates, the active ingredient in commonly used drugs such as Fosamax, Actonel, and Boniva. Osteoporosis medications have recently acquired a bad reputation for severe side effects such osteonecrosis of the jaw, muscle or joint pain, irregular heart rhythms, or esophageal cancer. However, Dr. Kolmeier insists that the medicines are safe.
"[Osteoporosis] medicines have a bad rep right now, but they reduce hip fractures by 40-50 percent," says Dr. Kolmeier. "They are a lot safer than people think, and we take all the safety issues very seriously."
For active cyclists who are diagnosed with bone density issues, Dr. Kolmeier explains that she personally tries not to use medicine or restrict activity, but works to increase safety issues, such as crash prevention and back safety, as well as focus on encouraging a strong core with back extension strengthening and safe loading of the hips.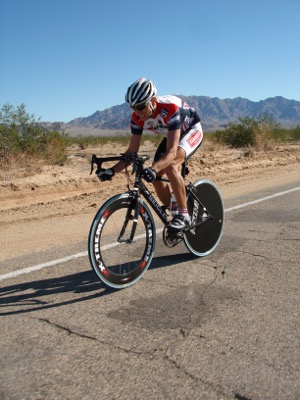 Photo courtesy of Chris Kostman
Michael Emde in the desert.
"Those who are diagnosed with osteoporosis can still prevent loss, build mass, and most importantly reduce factors," Dr. Kolmeier explains.
Unfortunately, many don't even realize they are developing or already have osteoporosis, as there are no early symptoms.
"It's a completely silent disease — you don't feel it until you fracture," says Dr. Kolmeier. Older people actually don't realize there is something wrong even after it happens, she explains. This is why we see many older people hunched over. They may have fractured their spine and are unaware of the issue.
Many times, it takes a fracture before becoming aware that the disease is present and by the time it occurs, it is in its advanced stages and the damage is severe.
Fortunately, it is easy to catch early and it's inexpensive to get an initial screening. Dual Energy X-Ray Absorptiometry (DXA) is the best way to measure bone density since it measures bone mineral density (BMD) at both the hip and the spine, two locations most at risk for osteoporotic fracture. The DXA is painless and non-invasive and takes only minutes to complete. Screenings range from $100 to $150. Or, you could attend an osteoporosis awareness event to get a free heel screening.
Dr. Kolmeier is the director of the annual non-profit Strides for Strong Bones race, a 5km run and walk held on Saturday, August 18, while Marla Emde co-founded one of the first triathlons for osteoporosis awareness in the country, the Westplains Wunderwoman Triathlon (Sunday, August 19). Both events are presented at Medical Lake near Spokane, Wash., and offer a free initiative scan to anyone who will ask their panel of nutritionists, physicians, physical therapists, and other specialists a question relating to the condition.
"You can't see your bones," says Marla. "Unless you get a scan, you wouldn't know."
"Most people are completely surprised by their lack of bone density," says Dr. Kolmeier.
Futhermore, many don't even know it is an issue.
Michael Emde bikes as often now as he did before he was diagnosed, but it took him some time to regroup.
"He wanted to make sure medications took effect before getting back to it," says Marla. "So, he started running and lifting weights and slowly worked his way back. You don't want to live your life in a closet, you just need to be smart about exercise."
The last thing you should do is quit cycling for fear of osteoporosis. Let's not forget about the cardiovascular, muscular, and joint benefits cycling has to offer. Just make sure to add in some walking, hiking, running, or other weight-bearing activity to your weekly routine, and maintain a healthy diet that includes dairy, five to seven servings of vegetables, and four or five servings of fresh fruit each day. Vegetables like broccoli and spinach are good sources of calcium. Fish that contain bones like canned salmon and sardines are another good source.
For detailed preventative strategies, specific strengthening exercises and treatment, visit www.spokaneosteoporosis.com. To help with education and volunteer to swim on an osteoporosis team, email osteoporosis@comcast.net.
You Might Also Like