Metabolic Testing
By Bruk Ballenger, Real Rehab
Did I put in enough base miles? Why don't I lose any weight with all the riding I do? Is my anaerobic threshold high enough for race season? These kinds of questions can be addressed while there is still opportunity for training changes using metabolic testing.
Sometimes called VO2 testing, exercise metabolic testing is when the air that a cyclist inhales and exhales undergoes real-time gas analysis, along with heart rate and power monitoring, while riding. This is typically done in a lab or gym setting, and preferably on a rider's own bike mounted to an ergometer, which measures the amount of work done by the muscles.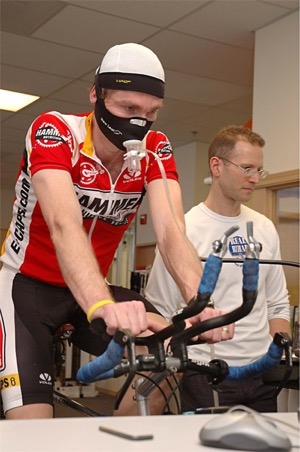 Photo courtesy of Bruk Ballenger, Real Rehab
Allan Larsen, 2003 RAAM winner, gets tested by Bruk Ballenger of RealRehab.
When riding, the body kicks on the aerobic metabolism to increase fuel supply to the muscles. The two primary fuels, fat and carbohydrates, are used in varying ratios, and metabolic testing is all about the measurement and manipulation of those ratios. Fat and oxygen are the two essential ingredients in aerobic metabolism that should be fueling most of your riding time. The key to improving both cycling performance and body weight management is to identify the heart rate range at which the body does this best, and then modify the training to improve it. The essence of base building during training is to create the anatomical and physical changes necessary to able the use of fat and oxygen as primary fuel sources at ever-higher levels of exercise intensity. The harder one can work without becoming anaerobic, the more effectively one can manage weight and endurance performance. Even sprinters need to have a solid aerobic base in order to perform.
The term "anaerobic" refers to a level of exercise intensity where the body can no longer rely on the complicated pathway of fat breakdown to feed its needs, and must change over to using a higher-octane fuel: carbohydrates. Carbs come in the form of blood sugar. The most important differences between fat and carbs as fuel are: fat is a highly concentrated fuel source that is virtually inexhaustible, but it is hard to break down and therefore easier to use at lower levels of exertion. Carbs, meanwhile, break down fast and easy, but are available in limited amounts. Even fat metabolism requires the use of carbohydrates to break down. Anyone who has "hit the wall" or "bonked" has run out of carbs/blood sugar, and thus lost the ability to use both fuel sources, which forces the athlete to return to a resting state.
A metabolic test identifies an individual cyclist's unique aerobic profile — a snapshot of one's current level of fitness — but more importantly, identifies potential areas for metabolic improvement that can be attained by manipulating training variables. In short, this test shows what heart rate range a cyclist should be riding at to improve fitness or to better manage his/her weight.
A metabolic test is most commonly performed while stationary cycling, running or rowing. The athlete wears a mask with tubes connected to a gas analyzer and a rate monitor, and all of the physiological data is fed into a computer for recording and analysis. The test starts with the cyclist riding at a very low intensity, which progressively increases every minute. The most well-known metabolic tests are VO2 max, but those are not necessary for the majority of cyclists. A threshold, or peak VO2 test, reveals the most important markers that can be manipulated to generate the greatest improvements: the percentage of fat as fuel through increasing heart rate, crossover point, and anaerobic threshold.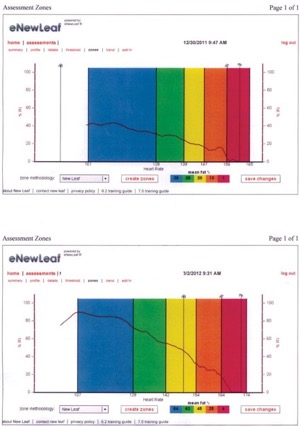 Photo by Bruk Ballenger, Real Rehab
Examples of bad and good aerobic profiles. Notice the various percentages of fat used as fuel vs. heart rate and the increase in aerobic base (AB) and anaerobic threshold (AT).
The first variable that must be optimized for anyone participating in an endurance activity is the percentage of fuel that comes from burning fat. At low intensities (typically heart rate zones 1 and 2), this should be between 80-100%. By far the greatest flaw we've seen when testing cyclists is inadequate base training that results in poor fat utilization at low levels of intensity. This comes from spending too much time on the bike at effort levels that are either too easy or too hard. Changes to the training regiment vary depending on the individual's goals. As an example, an STP rider requires a very solid aerobic base, while a competitive track cyclist needs to be aerobically efficient at intensities as close to anaerobic threshold as possible.
The heart rate zones mentioned above are merely ranges of heart rates. There are many different zone methodologies, but the most useful one is based on anaerobic threshold. This will fluctuate as fitness improves and declines, but is relatively easy to update outside the lab with a field test. A proven methodology is the five-zone format based on the work of Joe Friel, author of The Cyclist's Training Bible, which is based on percentages of one's anaerobic threshold. Each zone is designed to elicit a specific physiological response to training, and even weight-watchers should be working toward optimizing these responses. Another common flaw among cyclists in training is that easy workouts are too hard, and hard workouts are too easy, hence they never fully optimize their aerobic profile. Identifying the metabolic deficiencies, creating a zone system based on an individual's current level of fitness, and using a heart rate monitor to keep effort levels dialed in to the appropriate zones is the best way to improve.
The greatest misconception about metabolic testing is that it is only for elite athletes. While it is very useful for fine-tuning the training parameters of a category 1 cyclist, it is even more valuable for the age-grouper or fitness rider who is merely trying to get the most out of their time spent on the bike. There's nothing worse than spending countless hours in the saddle and not seeing the deserved improvement in performance or body composition.
Bruk Ballenger is a physical therapist, strength and conditioning specialist, multi-sport coach, and co-owner of Real Rehab Physical Therapy, Real Performance Athlete Specialty Services, and R2 Bicycles. He is an avid, life-long cyclist, who still competes at a very high level (in his own mind and on his bike commute). For more information about VO2 and metabolic testing, including answers to frequently asked questions, visit RealRehab.com.
You Might Also Like