Homemade Sports Drinks
By Ellen K. Chow, MS, RD, CSSD, CD
Sports drinks typically contain both electrolytes for increased fluid retention as well as carbohydrates to fuel energy needs. For those reasons, they are suggested for endurance and combination sports athletes that exercise for more than one hour. There are many commercial products to choose from, but for those interested in natural foods or fine-tuning the amount of electrolytes and carbohydrate to fluid ratio, try making your own.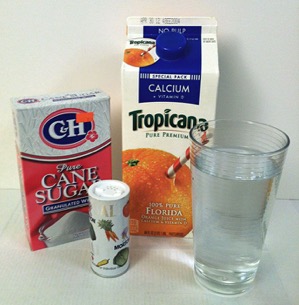 Photo by Bicycle Paper
Ingredients from your kitchen will suffice.
In most situations, cyclists can consume sports drinks in place of water during training and races. One can manipulate the concentration by diluting or increasing its carbohydrate content, usually by adding a simple sugar. Athletes interested in the details will find that most commercial products contain 5 to 20 grams of carbohydrates per 8 ounces while typical energy expenditures range between 30 to 60 grams per hour during aerobic exercise, depending on training level and muscle mass. On the other hand, riders with higher sweat loss or higher sodium content in their sweat may choose to carefully experiment with electrolyte to water ratio, starting with a basic recipe. Keeping a performance journal to note positive and negative results, gastric tolerance, and weight change at the end of a session will provide valuable feedback.
The body metabolizes glucose for energy while exercising. Glucose is a six-carbon sugar. It is stored in muscles and the liver as glycogen and also as blood sugar for vital bodily functions. It is the only form of energy source for the brain. The more trained an athlete, the higher the glucose storage is in the muscles.
Almost all natural sugars break down into glucose and fructose eventually, which explains why the human body evolved to rely on glucose for energy. Fructose on the other hand is abundant in, well, fruits. Fructose has a different metabolic pathway than glucose. It enters the liver unlike glucose, which readily enters the blood stream to provide energy for muscles. For that reason, fructose alone is not the best source of energy for performance, despite regular consumption of fruits being beneficial to health.
Another form of simple sugar, ribose, has been gaining popularity as a dietary supplement. It is a five-carbon sugar produced by the body, which participates in energy metabolism. Although theoretically interesting, ribose supplementation has not been found to improve energy level or athletic performance in individuals without genetic disorders or medical conditions. Researchers at the Ohio State University compared, in an eight-week double-blind study, the effects of ribose vs. dextrose on rowing performance and found the dextrose supplementation group had significantly more improvement in a 2,000 meter timed trial than the ribose group(1).
Keeping in mind that the two main electrolytes in sports drinks are sodium and potassium, adding sea salt to a homemade beverage can provide both from a natural source. However, sea salt's mineral profile can vary greatly depending on their origin and processing methods, which means the sodium and potassium content may differ between brands. To alleviate fluctuation, using regular table salt will provide accurate control of the sodium level. Finally, electrolyte packets are also available to add to water or any homemade recipe.
Energy vs. Hydration
Given the individual differences in metabolism, sweat content, and each training session, it is not usual for sports dietitians to assist athletes in fine-tuning sports drinks to better fulfill personal needs.
As previously mentioned, it is estimated that endurance exercise such as cycling requires approximately 30 to 60 grams of carbohydrates per hour. It is indeed a wide range that leaves much room for personalization. Typically, sports drinks ranging from two percent to eight percent carbohydrates were found palatable and well tolerated in gastric emptying. This simply means that beverages should contain two to eight grams of carbohydrates for every 100 milliliters of water (about three ounces). To determine the carbohydrate concentration of your personal formula, experiment by estimating the energy need for your particular session and add typical fluid loss.
For those experiencing high sweat volume or anticipating a higher hydration than energy need, a lower carbohydrate concentration with adequate electrolytes will be the key. Remember, few recreational athletes have access to professional measurements for sweat and urine content, so you are not expected to get it right on the first attempt. When trying new routines always be safe — bring your usual drinks and snacks along — and check with your healthcare providers.
Recipes and Comparisons
For comparisons, an eight ounce Gatorade™ G Series Perform 02 Regular contains2: 6% carbohydrate (14 grams of sugar providing 50 calories), 110 mg sodium, and 30 mg potassium. The sugars are mainly sucrose and dextrose. If consuming four to six ounces every 15 to 20 minutes, the total sum will equal 75 to 120 calories per hour.
Sample recipe 1 — Nancy Clark's homemade sports drink (makes 32 ounces).
• 1/4 cup orange juice + juice from 1 lemon
• 1/4 cup sugar
• 1/4 teaspoon table salt
• 3 3/4 cup water
Sample recipe 2 — from SportsGirlsPlay.com (makes 32 ounces).
• 5/8 cup sugar (10 tablespoons)
• 3/4 teaspoon sea salt
• 1 packet sugar-free Kool Aid mix
• 4 cups water
Once the basic formula is developed, try different flavors using diluted juices or coconut water. Keep a record of performance or energy levels in order to evaluate the effectiveness of your formulas. For better results, always experiment during training sessions and avoid unknown recipes during races.
| Carbohydrate Source | Composition |
| --- | --- |
Ellen is a Seattle-based sports and wellness nutritionist. She works with athletes of all ages. She also works extensively with athletes who have stable cardiovascular and metabolic diseases. Ellen can be contacted at www.endgamenutrition.com.
References:
1. Dunne L, Worley S, Macknin M. Ribose versus dextrose supplementation, association with rowing performance: a double-blind study. Clinical Journal of Sport Medicine. 16(1):68-71. 2006.
2. Gatorade™ official website. Accessed 5/28/2012.
You Might Also Like