Dress Like a Mountain Biker
By Sylvie Allen, PT and MTB Coach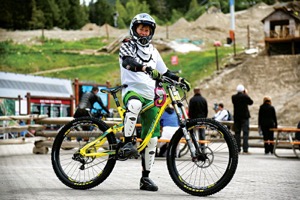 Photo courtesy of Brad Holmes
Some people think scars are sexy, they've done something gnarly and extreme, pushed their limits. They can say whatever they want, even though it might have been a lame tip-over! Sure, a scar or two might make them look sporty but I can testify that a guy picking a big crusty scab is not sexy!
My biggest scabs ever came from diving under a chain at dusk. That was back in the cross-country days wearing the 'ol spandex. I was covered in red oozing wounds, on my butt cheeks, thighs, and forearms, and had to walk around the house like Frankenstein in my underwear trying not to get things stuck to my skin. I'm not sure if that would qualify as sexy...
To avoid such occurrences, here are a few tips on protection. But more importantly, how to look like you know what you're doing on a cross country or downhill rig.
The Cross-country Kit — Head to Toe
Helmet
This is a no-brainer, literally. Nobody rides without a helmet anymore, and if they do, don't ride with them.
Your choices: Cross-country or BMX styles.
• A cross-country-style helmet will offer lots of ventilation, adjustments, and usually the more expensive it is, the lighter it is. Go with fit, comfort, and whatever your wallet can handle.
• A BMX version might be more your style if you're into that look. This option does add weight, features less vents, and generally hinders comfort, although some models will offer "multiple impact protection" so you can crash on your head more than once — bonus!
Gloves
Full finger gloves are the way to go, so don't go for the roadie half-finger ones. Mountain bikers need the extra protection to prevent the fingernails from folding backwards while crashing through the bushes. Also, a handy snot wipe on the thumb is nice if you don't like to blow "farmer hankies" with your friends around. (If you don't know what this is, email me for instructions) Those new swanky gloves that coordinate with your outfit should fit snug around the palm as not to crease on your grip. Having both a heavier and lighter fabric pair is great for the change in temperatures.
Shorts
Overshorts are a must, as is a good chamois short underneath, which will protect the "jewels" when inevitably landing upon the top tube or other hard objects. They will also make those long climbs more comfortable when the saddle's nose is up your "hoohoo." Here's a beginner's tip: no undies underneath! No thongs, no granny panties. Another tip? Chamois butter — not for potatoes but for your arse. It will limit the amount of complaining and soreness after those long rides.
Overshorts will also protect from more potential scars since the fabric will slide against the chamois shorts during a crash. In the Northwest, they will also make riders look less like cross country nerds — less nerdy = more sexy. Choose shorts with vents and lighter fabric if you ride in any kind of heat.
Shoes
Your shoe/pedal combo is critical to success in learning skills and progressing. The last thing anyone wants to worry about while conquering an obstacle is their feet slipping off the pedals. If you have already mastered clipless pedals and shoes, great, but if just starting out, ride flat pedals first. Choose a mountain bike specific flat-soled shoe versus a cheapie skate shoe, as they will be made of a tougher material, protect the ankle bones, be more waterproof, and have a specific sole for better grip. Running shoes are not a good substitute since they have knobbies in the wrong spots and a curve to the sole. Get flat pedals that have nice little screws in them that will stick like glue to the new shoes — they will dent your shins at least a few times, which leads us to talk about the next item on the list, pads.
Padding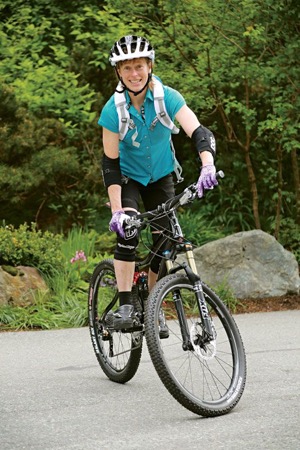 Photo courtesy of Brad Holmes
Cross-country attire.
Pads for the cross-country kit might not be the same ones needed for burly downhill riding. Choose ones that are comfortable for pedaling, not too hot, and are packable. They are available in either soft or hard shell. Some soft shell pads may also come with the more expensive D30 padding, which will harden on impact, although they will not provide as much protection to your bony knees and elbows as a hard shell would during direct, sharp impacts. Pick a pad that's comfortable, fits well, and offers adequate protection for those sharp flat pedals, I recommend knee/shin pads,not just knee pads.
The Downhill Kit — Different Stuff than the XC Kit
Helmet
Full-face helmets are the only way to go for the downhill park unless, of course, you're 16, can already do backflips, wear jeans with no padding, and sport a BMX helmet — somehow that combination makes them invincible.
Only buy a CE certified helmet that will meet the minimum requirements for safety. The really cool looking ones on the top shelf are most likely carbon but be careful when trying these on because you'll probably like it, and they're expensive. A carbon fiber helmet offers better protection and is much lighter, placing less stress on the neck. Plastic is the other choice. Either way, fit is very important, or don't bother wearing it. You should not be able to turn your head inside the helmet, nor should it be so tight it causes a headache. Goggles should have a compatible fit so always bring them along while shopping for a new helmet.
Neck Braces
In the past few years neck braces have, thankfully, come on the downhill scene. They reduce the chances of spinal/neck injury in the event of a crash if fitted properly. Do not buy one online, and always have a professional fit this for you. There are only a few different brands to choose from and most will only be effective with higher quality helmets that are compatible with the brace.
Body Armor
Here's an easy way to look a little more muscular without having to go to the gym. Riders will most likely feel more invincible with all the padding on. The main goal of this piece of equipment is to protect the shoulders, spine, forearms, and possibly even the chest with hardshell plastic that will skip and slide over the rocks and rough terrain during a crash. It's really fun to have an awesome wipeout and be able to laugh, knowing that you would have been shredded to pieces if not for all the padding. There is also a soft shell style of upper body armor, which will be lighter and more comfortable, but doesn't offer the same level of protection, although it's still better than a T-shirt!
Shorts
Downhill overshorts should be made of a tougher material than their cross-country counterpart, as crashes generally happen at higher speed. They should be longer as well.
All this talk of protection and padding should not scare people off from the sport or from trying a downhill park. It's not like we're crashing all the time out there. However, it only takes one spill to pay it all off and it's a heck of a lot more comfortable than all the gauze and bandages you could possibly be sporting if you don't wear it. So be prepared and have fun.
Sylvie Allen is a personal trainer at Meadow Park Sports Centre in Whistler, BC, and also owns her own personal training and mountain bike coaching business, Sweet Skills Mountain Bike Coaching and Personal Training. She's been a trainer for 10 years and has been coaching mountain bike clinics for more than 15 years. Racing has been a big part of Sylvie's life and being a former Canadian Downhill Champion is one of her many credits. You can reach her for advice or lessons by emailing sweetskills@shaw.ca.
You Might Also Like