Train your Brain!
By Sylvie Allen, PT and MTB Coach
Let's start this article with the second letter of the alphabet: B
B is for:
- Bike
- Body
- Brain
All three are crucial in the sport of mountain biking; missing any of them and you are doing a different sport!
Each one needs equal attention in order for them to all work symbiotically and for you to enjoy a successful and exceptional riding experience. Isn't that what we strive for in every ride?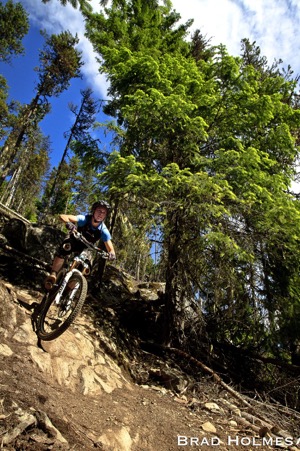 Photo courtesy of Brad Holmes
Keep focused to ride well.
Bike
Your bike is an extension of your body on the trail so your choice is crucial to your riding enjoyment. Choose the right one for your riding style and the terrain you enjoy the most and have it set up so it fits you just right. Pay attention to maintenance throughout the season so you don't end a perfectly fun ride with a broken part or constantly skipping chain.
Body
Listen to your body, if something hurts or doesn't move properly, make a change. Strengthen in the gym, cross train with other sports, stretch, and eat properly. Strength will get you up the hills faster and endurance will keep you going for hours. What is your reason for riding? Know this and you can set realistic expectations and goals for your summer.
Brain
This is mainly what this article is about since this is the hardest of the three Bs to dial in. You can go to the shop to get your bike fixed and you
can hire a personal trainer or physiotherapist to help you with your body, but you're on your own with your brain!
Mountain biking is challenging. It should be, otherwise we will never improve our riding. Challenge can be pushing your physical limits of strength and endurance or tackling a technical part of the trail.
Perfection in this sport is non-existent; everyone makes mistakes no matter what level they're at. We must be prepared mentally to handle these mistakes so our end goal is a positive experience.
How to Focus Your Thoughts
The more technical the trail gets, the more you need to focus. Not just with your eyes directing your laser beam vision down your chosen line, but your mind mentally focused in the moment. What do you say to yourself when you're riding, especially when you get to something tricky or scary? Are you positive or are you negative? "I hate that rock" or "I can do it, I got it, yay!"
Negative thoughts will only make you tense up and ride poorly, positive ones will help you relax and you'll feel better flow. Don't dwell on any particular part of the trail, ride in the moment and enjoy it. If it truly is over your ability limits, pause, take a breather and don't feel shame for walking your bike through the section. Use it to visualize your line and success for a future ride. Give yourself a three try limit and if you still don't get it, don't get mad — forget about it and move on.
If you've crashed on an obstacle, think about why it happened and if it's fixable. Is it your bike's fault (guys love using this one), was it physically too hard for your ability, or did you think about that big rock, looked at it and tensed up while approaching? Figuring out the reason behind a crash will make you feel better about riding the section again in the future. We all make mistakes and everyone deals with them differently, it's all part of the learning process. Please, just don't throw your bike! Laugh at yourself instead, it's only biking ... then get the Band-Aids out.
There are a couple different things you can do to stop your mind from wandering. Negativity will foster anger, frustration, and disappointment. Putting a positive spin on situations and being confident will give you a greater sense of accomplishment and pleasure out of your ride. Negative thoughts will inevitably make their way into your head; you need to regain your focus and mental clarity and get on with the rest of the trail.
Focusing Techniques You Can Try:
Be mentally prepared before you even go out for your ride. Visualize the trail and yourself flowing over all the sections effortlessly.
Use a mantra-like three words that will focus your thoughts in the moment: Breathe, relax, roll... anything that works for you. Repeat it in your head, not during the entire ride, just the tricky sections.
Remember the times you rode successfully and were proud of it and how you felt about yourself? Let those emotions tie in with your mantra.
Sing a stupid song in your head or sing out loud, who cares, you're in the forest!
If you focus on "Don't fall, don't fall!" your brain will only be able to think about falling. Instead use your mantra or song and push that thought out of your head.
Breathe! Do a physical check of the tension of your body and let it go. Soften your face, breathe deeply and drop your shoulders, relax your grip on the bars. Remember your neutral stance on the bike and that you want heavy weight in your feet and lightness in your hands
Ride within your limits. Challenge yourself and try new things but don't get in way over your head. If you don't ride something because you're not "feeling it" that's OK! The trail will always be there to try another day.
Ride with people who are positive and supportive. Other people freaking out about a section will only make you tense and nervous along with them and you will second-guess your abilities.
So keep it simple — focus, relax and enjoy the ride.
Sylvie Allen is a personal trainer at Meadow Park Sports Centre in Whistler, BC, and also owns her own personal training and mountain bike coaching business Sweet Skills Mountain Bike Coaching and Personal Training. She's been a trainer for 10 years and has been coaching mountain bike clinics for over 15 years. Racing has been a big part of Sylvie's life with being the Canadian Downhill Champion as one of her many credits. You can reach Sylvie for advice or lessons by emailing her at a href="mailto:sweetskills@shaw.ca">sweetskills@shaw.ca.
You Might Also Like