Pound for Pound
By Ellen K. Chow, MS, RD, CSSD, CD
Ah, the much-dragged topic of weight. While many may discuss it freely with their close friends, it can be a sensitive subject. Not only do most athletes feel that they should "know better," consulting professionals often comes as an afterthought when weight loss information saturates the media. At one end of the spectrum, many endurance athletes struggle to maintain weight because of the high-energy expenditure of training. On the other hand, some feel that they just cannot lose weight without starving. Reality is somewhere in between, as the majority of recreational athletes experience some form of weight fluctuations between seasons. The go-to method should be balance and moderation, addressing both quality and quantity of food choices. This article aims to shed light on the science of weight management for recreational cyclists' health and performance.
Calories In, Calories Out
For the most part, the laws of physics apply — consuming more calories than expending results in weight gain, eating less would lead to weight loss. Nowadays, there is no lack of websites and smart phone apps to record one's food intake, complete with a detailed nutritional analysis. The challenge most athletes encounter, however, is setting an accurate goal for their caloric intake.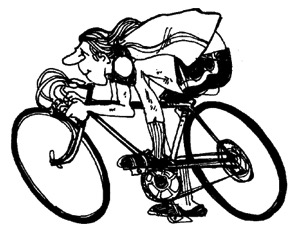 For healthy individuals, energy requirement, a.k.a. caloric need, depends on physical activities, exercise intensity and duration, muscle mass, fat mass, metabolism, and to a certain extent, their gender. Meanwhile, it is now more widely agreed than ever that timing may have some effects on long-term weight management. Not only does eating every few hours prevent significant hunger that can lead to poor food choices or overeating at a later meal, it also encourages the body to maintain a steady metabolism and avoid surges of hormones involved in stress response and energy conservation.
For cyclists who exercise more than an hour each day, it is not uncommon to hear struggles about maintaining a healthy weight. Those who have a small appetite, special dietary needs, low fat intake, and are too busy or "forget" to eat often risk inadequate energy and nutrient intakes including vitamins, iron, and calcium. Athletes who consume a large amount of low-calorie nutrient-dense foods may find themselves feeling full but needing more calories. In these situations, beverages such as low fat smoothies, dairy, protein shakes, and 100% juices may provide enough during a busy day or when an appetite is lacking for solid foods. Depending on the weight goal and without losing focus on healthy choices, some of the calorie-dense options include nuts, seeds, avocado, oils, and low fat cheeses. It is still best to avoid foods high in saturated fat, trans fat, and sugar found in pastries, gravies, fried foods, cream-based dishes, fatty meats, etc.
The challenge is to gain muscle instead of body fat. Athletes who have a regular exercise routine are more likely to achieve this compared to those with inconsistent workouts or cyclists who are inactive during part of the year. For healthy weight gain, it is essential to incorporate conditioning exercises, most commonly weightlifting, yoga, or pilates. In order to vary routines and keep it interesting, some may enjoy martial arts and other power sports.
Just like healthy weight gain, body fat is often the objective. If possible, it is helpful to obtain a body composition analysis in order to determine body fat percentage, basal metabolism, and to set a realistic nutrition plan. Speak with your healthcare provider, personal trainer, or sports dietitian, who usually know where you can get a clinical grade bioimpedance analysis (BIA). When following instructions and performed by trained individuals, BIA measures body fat by sending a harmless electrical current through the body and then analyzes the time and resistance to complete the circuit. Unfortunately, BIA by home scales may not be reliable.
A proper weight loss goal for health and performance should be set using the basal metabolic rate together with physical activity estimation to create a mild energy deficit at approximately 300 calories per day. Although it has been traditionally suggested to reduce intake by 500 calories per day to produce weight loss of one pound per week, some individuals experience the all-too-familiar plateau when metabolism slows down with the reduced intake. A starting point of a 300-calorie deficit allows ample time for the body to adjust; you may further reduce intake over a few weeks as appropriate. Due to the requirements of endurance sports, resist the temptation of the trendy low-carb diets and opt for a moderate yet adequate amount of carbohydrates at the right time such as pre-exercise and recovery. Calculate your carbohydrate needs during exercise, typically 30-50 grams per hour for training lasting beyond one hour; note your performance, onset of fatigue, and avoid over consumption. Avoid a dinner-heavy pattern and be mindful of alcohol intake. Try to incorporate 25-30 grams of dietary fiber to provide fullness. For safety and health reasons, it is worth mentioning that athletes should not fall below 1,200 calories of net intake without medical supervision. Do not hesitate to talk to a friend if you believe he or she may be developing an eating disorder or an exercise addiction.
Commercial Weight Management Products
Dietary supplements for muscle building and fat burning are a multi-billion dollar business. Also available are over-the-counter as well as prescription appetite suppressants and "fat blockers." While this article does not intend to discuss such products in detail, most of them fall into the categories of protein supplements; plant-derived metabolic stimulants that allow for longer, more intense workouts; neurological inhibitors; and fat absorption blockers.
The truth is, these probably work for the short term, however, be extremely careful with the potential long-term implications, safety, and the lack of understanding about how they work. Keep in mind that these products do not empower lifestyle changes to maintain results. Furthermore, it is difficult to predict the consequences of altering metabolism, especially when the product is discontinued. As a result, healthcare professionals usually discourage them. When in doubt, discuss with your providers before any decisions are made. Remember that with knowledge, support, and consistency, many people have successfully achieved their weight goals, from gaining 30 pounds of muscle to losing over 100 pounds of body fat — and have had lasting results.
Ellen is a Seattle-based sports and wellness nutritionist. She works with athletes of all ages. She also works extensively with athletes who have stable cardiovascular and metabolic diseases. Ellen can be contacted at www.endgamenutrition.com.
You Might Also Like
Comments (1)