Club Ride Go Long Jersey
By Darren Dencklau
Anyone who has known me for a while has established that I typically wear plaid, flannel, and western-style long sleeve shirts most of the time — especially ones with snap buttons. They are perfect for the workplace (at least I think they are), going out, and for riding in. On countless bike tours and mountain bike excursions they have kept the sun off of my arms and the back of my neck (collars are awesome). They can also be unsnapped in a hurry to impress the ladies and the sleeves can be either rolled up to cool off or unfurled for warmth when the sun goes down.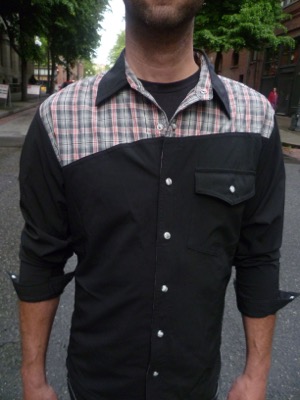 Photo by Bicycle Paper
The "Go Long" shirt by Sun Valley, Idaho-based company, Club Ride, combines all of the elements mentioned, but also features high-tech components such as RideDryWear™ fabric, full vents that run from the waist all the way through the inside of the sleeves, a back pocket for storage, and the Air2Flow™ hidden zipper underneath the black and white pearl snaps. All of Club Ride's products are designed to be comfortable, breathable, stylish, and effective for riding bikes.
I find the Go Long jersey dries quickly, keeps the funk from fortifying the armpits, and it looks good on and off the bike. The fabric is lightweight and comfy and the sleeves fit snug but also stretch so it's easy to quickly pull them up when it gets warm — and they stay put without having to roll them.
The only issue I had was with the zipper of the "media port" on the back of the jersey; one day I was carrying an extremely large and heavy load in my pack during the commute and the slider dug into my lower back after a while — to the designer's credit, it was a rare load of about 150 copies of Bicycle Paper in a full-length pack, and this hasn't happened since.
If you're in the market for functional apparel that works in a variety of situations, including riding technical singletrack all day long and then going straight to the pub afterwards, I highly recommend checking out the wares from Club Ride.
MSRP for the Go Long is $99.99. Visit clubrideapparel.com to see more.
You Might Also Like