Reviews - Kontact Anatomical and Ortlieb Office Bag
By Bicycle Paper
Kontact Anatomical - Review by Darrren Dencklau
If you've been paying attention the past few years, I have written reviews on several interesting saddles such as the Koobi PRS Alpha and Selle SMP Stratos. Both of these offer something different than the norm and are designed to makes one's life better by lessening the burden placed on the genital region while riding. Kontact Bicycle Components is doing its part of "questioning the status quo" also.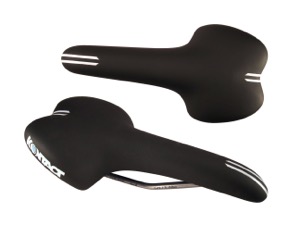 Photo courtesy of Kontact Saddles
Joshua Cohen PT, MS, is the inventor and designer who works with the collaborator and founder of Kontact, Andrew Severson. He has done extensive research on bicycle saddles, and has authored a book called Finding the Perfect Bicycle Seat. He believes that many of today's most popular and ergonomically designed seats aren't always the best choice for cyclists and that some designs actually hinder performance, and more importantly, normal blood flow.
Made with titanium rails, a carbon-reinforced body, and a leather cover, it weighs just 190 grams. Looking at it, one may think, "it doesn't look much different," since it does not feature cut out grooves, slots, gel pads, etc. In fact, it's a really simple looking saddle designed to utilize the sit bones as well as gluteals and hamstrings, thereby dispersing pressure.
It took some getting used to, as the shape allows the backs of the thighs to be freer from contact at the transition area, which drops off more dramatically than most other designs. The platform-type perch is unique and I often don't easily locate "the sweet spot" that my sit bones usually find automatically; I do tend to move around a lot while riding, though.
I recently set out on a little adventure ride created by Benjamin Rainbow of Back Alley Bike Repair along with another friend. Since it was the first of such long rides this year — it was only April after all — it seemed like a longer than usual 100-miler. I hit the wall hard at around mile 80, forcing the group to stop at a produce stand so I could refuel on raw corn, kiwi, bananas, and an avocado. That said, the last thing I was worried about at that point was my ass, which is a positive testament to the Kontact's comfort factor. The following day while riding to work I noticed that my bum wasn't sore either.
The only downside I can think of is the lack of reinforcement material on the sides of the saddle where the logo is situated, which will inevitably become scuffed up from leaning the bike against something or crashing (it honestly doesn't happen often — knock on wood here).
If you're either experiencing discomfort in the nether regions or are in the market for a new branch to rest your tail feathers upon, give the Kontact Anatomical a try.
The company guarantees all of their saddles for 30 days. MSRP is $110. Visit kontactbike.com for more information.
Ortlieb Office Bag - Review by Jay Stilwell
Not all panniers are made the same, and when it comes to transporting my "portable office" and keeping stuff organized, the selection is limited. So when asked to try Ortlieb's "Office Bag" on my regular bicycle commute, I couldn't pass up the opportunity. The Auburn, Wash., company is well-known among bike commuters for making durable waterproof bags and for their trademark 3M reflective patch that resembles an upside-down triangle.
With the Office Bag, Ortlieb has created a functional and thoughtfully designed product that eliminates some of my frustrations with other panniers, mostly how they attach to my bike's rear rack. By relying on multiple attachment inserts to customize the fit, this pannier is compatible with all standard racks with rail diameters of up to 16mm. One of my favorite features is the rotating top mount, which allows the bag to be secured on either the left or the right side — simply remove four screws with an allen wrench, rotate the panel, and reinstall screws. The highly adjustable lower mount, Ortlieb's QL2 system, makes it easy to get the bag on and off the bike and works well with any rack design; gone is the antiquated design of hook and bungee found on many other panniers. It also keeps the bag snug against the rack and doesn't require any tools to make modifications. This system allows for the height and angle to be tweaked by hand for additional heel clearance, a feature that big-footed cyclists like myself can appreciate.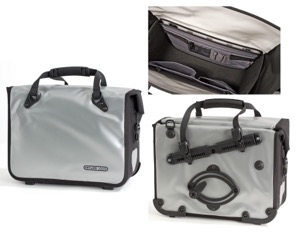 Photo courtesy of Ortlieb USA
When looking at the inside of the bag, organization is simplified with numerous pockets and sleeves, making it uncomplicated when trying to locate pens, keys and other office items that typically would be lost somewhere at the bottom. A laptop sleeve is optional, but any standard sleeve is suitable, as the space provided is large enough to fit most any size. The rectangular bottom contour and the plastic abrasion cleats mounted to the exterior protects the bottom of the bag while allowing it to also stand on its own — this is handy when stowed next to my desk and when showing up for business meetings. The integrated handle is well positioned and keeps the bag balanced when carrying by hand. The detachable padded shoulder strap is comfortable for longer stretches on foot as well.
As it would turn out, March's record rainfall and April's plethora of showers provided the perfect environment to find out if this bag was fully waterproof. It was. Overall this is an excellent choice for someone looking for a well-built pannier that doubles as a gear carrier and a briefcase for use both on and off the bike.
The Office Bag comes in two sizes, medium or large, and in several colors. There's also a choice of materials — PVC or non-PVC models. Prices range between $120-$150, comparable to other high quality panniers designed for the office. For more information go to ortliebusa.com.
You Might Also Like