Idaho Women Focus on RAAM
By Jennifer Forsyth
The 31st edition of the Race Across America, RAAM, known as a grueling endurance event and justifiably called the "World's Toughest Bicycle Race," will begin in mid-June on the shores of the Pacific Ocean in Oceanside, Calif., and end in Annapolis, Md. — it is a cross country race like no other. Participants experience various challenging terrain, from the scorching Mojave desert with absolutely no shade to frigid Rocky Mountain passes rode in the middle of the night to the seemingly never ending windswept plains of middle America. Although some go at it alone, most racers are part of a relay team, taking turns between resting and riding. This year, one Idaho team comprised solely of female cyclists is attempting the journey. Team Laughing Dog is their name, but laughing they are not, as they are serious about their aspiration to finish — in eight days.
What started off as a dare a handful of years ago for four Sandpoint, Idaho, locals, has turned into a cause an entire community is embracing. This will be the second RAAM appearance for Team Laughing Dog (TLD), who is using the event to raise awareness about autism. Despite its return appearance, this year's members are all first timers — only men rode in the team's debut performance. According to RaceAcrossAmerica.org, historically women make up only 15 percent of the total participants at the event.
This year's TLD riders are Kathi Riba Crane (age 50), Arlene Cook (age 51), Julie Nye (age 49) and Gina Pucci-Deprez (age 49). They are hoping to complete their tenacious feat in eight days, but on par with their level of commitment to personal challenges and goals, they would prefer to finish in seven days while keeping safety as the utmost important aspect of the ride. During their week-long adventure, they will see 3,000 miles, 170,000 feet of climbing, 12 different states, 2 oceans and countless communities.
All of the women are wives, mothers, and have regular jobs. Three out of four were born and raised in Sandpoint, while Crane hails from Alaska, having moved to the area seven years ago with her family. They come from diverse backgrounds, however, their love for cycling brought them all together while living seemingly normal lifestyles — "seemingly" if you live in Sandpoint, where outdoor recreation is a way of life for most, whether it's summer, winter or the seasons in between.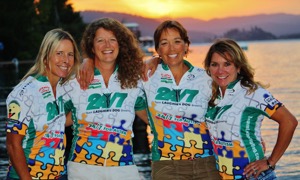 Photo courtesy of Team Laughing Dog Brewing
The 2012 Team Laughing Dog contenders.
Team member Pucci-Deprez recalls growing up in Sandpoint: "We learned to take advantage of the outdoors. This is what we do. We didn't have shopping [malls] or other things that cities bring, so we just learned to use the outdoors to its fullest. We didn't go on vacation, we went backpacking."
The team members have known each other for years but are building a stronger bond day by day as they prepare for their adventure. They use every aspect of their environment for physical conditioning. In the summer, they are riding their bikes, running, water skiing, sailing, hiking, backpacking and kayaking, while during the wintertime you can find them downhill skiing, Nordic skiing and snowshoeing.
Initial planning for their RAAM effort began last summer. Once the idea was conceptualized it quickly became a reality. The hardest part, as Pucci-Deprez explains, has been the "off-weeks." Since they are all so active, they have trouble taking the time to rest and rebuild. During this past winter they spent a lot of hours on trainers and in the gym, and some of the members have actually been able to ride all winter long on the road. Core and balancing exercises, as well as running and Nordic skiing, was part of their cross training.
Their weekly program also includes meetings— a lot of them. A big part of riding across the U.S. includes fundraising for the cost of the trip and for the autism awareness aspect in addition to coordinating logistics. They have already participated in several community fundraisers and have more scheduled over the course of this next month, prior to setting out in June.
Along with the four women riders, the crew currently consists of 11 people, including drivers, support, and bike mechanics. Their trek across America is planned like a continually moving machine. They have no intention of making any stops and have sketched it out so that while two team members are riding, the other two are resting and preparing for their time in the saddle. The same concept will be in place for the crew members so they can take full advantage of each moment as they inch across the states at 20mph.
While the focus may seem to be on the race itself, in all actuality it has become more about the cause. In addition to their shared love for time in the saddle, fresh air, and the feeling of freedom they get from cycling, they are all committed and passionate about the cause they are riding for. Part of the team's name is "24/7 for Autism." This is indicative of the race as well as the constant struggle for those battling the disorder. RAAM riders collectively raise $2 million annually for their respective charities and TLD is hoping to raise $40,000 of that total for local families dealing with autism.
While autism is diagnosed in 1 out of every 88 children, making it more common than pediatric cancer, diabetes and AIDS combined, the percentage of private funding is minuscule compared to the previously mentioned diseases. There is no rhyme or reason to who gets it and who doesn't. It affects all racial, ethnic and social groups and is more likely to strike boys than girls. Autism is best described as a developmental disability and comes in different forms and degrees. It mostly affects a person's ability to communicate and socially interact with others. The level of severity ranges from a person's ability to connect with the environment around them to people with little to no spoken language, to severe developmental delays and to those that will remain dependent upon 24/7 care for their entire lives. Autism is known as a spectrum disorder, meaning that its symptoms can range from mild, such as ADHD to Aspergers Disease, to significant developmental restrictions, with the most defining trait being characterized by extraordinary variability, meaning no two autistic people are alike.
The foursome of women hopes to make all of their goals become a reality this year, both on and off the bike. You can find out more information, donate and learn more about their mission at teamlaughingdog.com.
You Might Also Like
Comments (1)