Exercising in the Heat
By Ellen K. Chow, MS, RD, CSSD, CD
We live in the great Northwest, so why talk about heat and altitude? It turns out that many Northwest cyclists enjoy adventurous trips to destinations such as Eastern Washington, Arizona, Colorado, Utah, and other locations where you'll find both conditions.
Let us start with defining heat. The human body maintains an internal temperature of approximately 98.6 degrees Fahrenheit (F). A core temperature of 104 F causes significant exhaustion and cerebral blood flow is reduced by 20% due to hyperventilation(1). Things get complicated a lot faster when intense exercise such as long distance cycling is added to an already hot environment.
In a controlled research laboratory setting, it was observed that an outside temperature of around 50 F (10 Celsius) yields some of the best endurance exercise performances. Ambient temperature exceeding this level resulted in progressively declining results along with dehydration and increasing demands of thermalregulation (the ability to keep internal temperature within a certain boundary). There was also evidence suggesting that the central nervous system facilitated fatigue better in the heat than in the cold. Meanwhile, exercise in hot conditions causes higher carbohydrate burning due to rising core temperature and the body's sweat response.
Acclimation refers to living and training in the actual setting whereas acclimatization is training in a simulated environment, often referred to as a "heat lab" or "heat camp." While most cyclists may be able to arrive at their destination with a few days spared for acclimation, professional athletes are more likely to have a training facility for acclimatization. Be careful when self-training in heat suits or cranking up the heater at home for this purpose; consult a coach and let your friends and family members know what you are up to in order to avoid potentially dangerous accidents.
Acclimation or acclimatization is usually achieved in seven to 14 days. Training can be performed between 86 F and 95 F (30-35 Celsius). Ideally, two sessions can be carried out each day, lasting 30 to 60 minutes each. The first should focus on performance quality, with a less intense workload and lower speeds while monitoring the heat response. It has been shown that heat training every two to three days for 30 days resulted in similar acclimatization levels as daily training for 10 days(2) does, and training sessions longer than 100 minutes did not show additional benefits(3).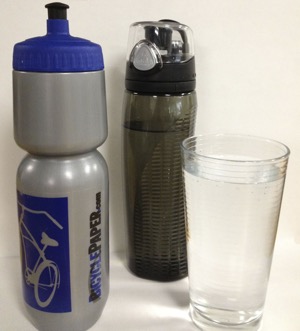 Photo by Bicycle Paper
Experienced cyclists may notice that despite large quantities of fluid consumed during exercise, the increased sweat loss usually prevents a significant jump in urine output. This is another prime example of our nervous system hard at work. In general, athletes are instructed to consume "plenty" of water in the hours leading up to an event with subsequent intake of four to eight ounces every 15-20 minutes. It is worth noting that leisurely day trips are much different from intense races. Interestingly, acclimation to heat does not decrease fluid needs; on the contrary, fluid loss may increase along with enhanced sweat response. Weighing before and after training is an easy way to assess fluid replacement needs for most hobbyists. Take the difference in weight, multiply by 16 ounces per pound, and add the amount of fluid in ounces consumed during training to calculate the fluid loss value. One needs to consume 1.5 times this volume within four hours following the end of a cycling session for adequate replacement.
Overhydration should be avoided to prevent electrolyte imbalance. This condition is more likely to occur in petite persons and those who have a low sweat response, or those that eat a significant amount of food with high water content such as fruits. Overhydration is not to be confused with hyperhydration, which is the ingestion of a small amount of glycerol along with a large amount of fluid to increase fluid retention. Caution must be taken with this method because it may conflict with anti-doping rules for some events, and its effect on thermalregulation is yet unclear at this time.
In order to facilitate nearly two gallons of fluid intake for a day-long ride in the heat, palatability and temperature of fluid is important. Beverages with mild sweetness were found to be favored in many studies. Homemade or commercially prepared sports drinks with six to eight percent carbohydrates are usually appropriate both for taste and energy supply. This is approximately 14-20 grams of carbohydrate per 250 milliliters, about 8 ounces.
Fruit juices are not an ideal choice due to fructose's requirement for further conversion into glucose. Alcohol and caffeinated beverages are not recommended for athletes, however, cyclists should not eliminate them too suddenly in addition to exercising in the heat; withdraw symptoms can be unpleasant at best and impairing performance and judgment at worst.
Regarding beverage temperature, performance trials were inconclusive due to the large variation in study designs, training levels, ages, etc. While one group of Australian researchers found no significant difference in performance between ice-slush and cool beverages(4), another group concluded in a review that cool fluids improved performance by up to 10 percent(5). Overall, it was agreed that cold beverages improved recovery, cooling down, and perceived comfort.
While exercising in hot environments does not necessarily increase caloric needs, it shifts substrate utilization toward carbohydrates. It is not unusual on a day-long bike ride to expend 3,000+ calories, as observed in both male and female ultra-endurance cyclists in temperatures over 100 F. The use of sports drinks and sports gels often provide significant calories and carbohydrates, as well as electrolytes for athletes with average sweat content. The preparation stage is the best time to monitor one's personal heat response. Consider the following checklist for successful acclimation and a safe excursion:
• Heart rate and warm up routine.
• Sweat volume, fluid loss and replacement need.
• Carbohydrate needs, start with 30-60 grams carbohydrate per hour.
• Electrolytes needed.
• Gastric tolerance for liquid and solid intakes.
• Preferred beverage temperature (refrigerator temperature is 40 F).
• Performance: power output, time to fatigue, biomechanical measurements if available.
• Cool down and recovery needs.
Heat response varies greatly among athletes. If you are new to cycling in hot environments, consider working with an athletic coach and a sports dietitian to set up a training schedule as well as a fuel and hydration plan.
References:
1. Nielsen, B. and Nybo, L. Cerebral changes during exercise in the heat. Sports Medicine 33(1):1-11. 2003.
2. Fein, L. W., Haymes, E. M., and Buskirk, E. R. Effects of daily and intermittent exposure on heat acclimation of women. International Journal of Biometeorology 19:41-52. 1975.
3. Lind, A.R and Bass, D.E. Optimal exposure time for development of heat acclimation. Federation Proceedings 22:704-708.
4. Stanley, J., Leveritt, M., and Peake, J. M. Thermoregulatory responses to ice-slush beverage ingestion and exercise in the heat. European Journal of Applied Physiology 110(6):1163-73. 2010.
5. Burdon, C. A., O'Connor, H. T., Gifford, J. A., et al. Influence of beverage temperature on exercise performance in the heat: a systematic review. International Journal of Sport Nutrition and Exercise Metabolism 20(2):166-74. 2010.
Ellen is a Seattle-based sports and wellness nutritionist. She works with athletes of all ages. She also works extensively with athletes who have stable cardiovascular and metabolic diseases. Ellen can be contacted at www.endgamenutrition.com.
You Might Also Like