Bikes Mean Business
By Margaux Mennesson, BTA Communication Director
If you're looking for evidence of bicycle commuters at the workplace, look no further than the nation's leading tech companies. Businesses like FourSquare in New York City and Google in Mountain View, Calif., are racing to attract new employees by touting benefits for cyclists, such as bike-friendly office culture, workplace amenities for bike commuters, and the quality of bicycle infrastructure in the surrounding community.
Gone are the days when professionals would feel compelled to sneak off to the basement showers (if they were so lucky to have them) in order to avoid the raised eyebrows of colleagues. Today, companies are putting bicycles in their meeting rooms to encourage the productive thinking that comes along with physical activity. Nevermind a little helmet hair — tomorrow's employees will think nothing of riding to work in the very same suit they will wear in the office all day.
The pedal-to-work wave gains even more momentum in communities that are committed to building safer, more convenient bicycle infrastructure. Separated bike facilities and multi-use paths offer choices for those who prefer a more casual ride in the morning, especially if pedaling in a suit or heels. Starting in 2013, Portland Bike Share will make it easier than ever for residents to ride short distances to meetings or make cycling a part of their commute.
By encouraging employees, employers reap all sorts of benefits like saving money on health care, reducing employee stress and sick days, and supporting the growth of local bike-related industries.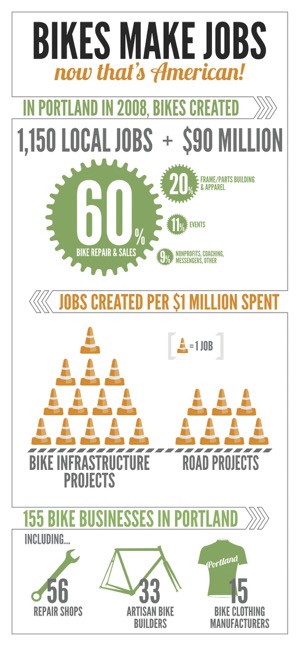 Here are just a few of the advantages of biking to work.
Good for Your Health
- Commuting burns an average of 540 calories per hour.1
- Bike commuters report lower stress and greater feelings of freedom, relaxation, and excitement than car commuters.
- According to the federal government, biking for transportation can count toward the minimum 150 minutes/week of moderate-intensity aerobic activity recommended to enhance physical health. It is also listed as the safest way to be physically active.2
- Countries with the highest levels of cycling and walking generally have the lowest obesity rates.3
Good for the Economy
- A Dutch study found that cyclists spend less per visit than motorists at supermarkets, but they patronize more frequently. As a result, they account for at least as much spending as people arriving by car. 4
- The average American household spends an entire three months' pay on transportation.
- Americans spend more on transportation than any other category except housing. On average, 18% of household expenditures are for transportation.5
Bike to Work Week is a great time to build momentum at the office. If you work in Oregon, think of it as "spring training" for the BTA's Bike Commute Challenge in September.
Need inspiration? Here are a few of the creative ways you can help coworkers feel confident about riding to work.
Help them Find Bike Routes
One of the toughest challenges for new riders is finding the best route. An experienced commuter is an extremely valuable resource to have in your corner, whether it's to help map out directions or even ride to work together. At SERA Architects in Portland, employees not only have access to a variety of bike maps, but also a "Bike Pro" in each of the different communities. In the kitchen, a massive map of the Portland area bicycle network shows the names and photos of Bike Pro employees who are available to help.
Provide Accessible, Secure Bike Parking
SERA is lucky in that they have a basement space which has worked wonderfully for bicycle storage and lockers. They utilize a simple, inexpensive hook system to maximize use of space and provide easy access to the bikes. They also have tools on hand should someone need to fix a flat, lube a chain, or make quick repairs. They have locker units and three changing rooms as well as a shower on the upper level. They even brought in an iron and ironing board just in case someone needs to look extra crisp for a client or meeting!
Cheer Each Other On
At SERA, they created unique posters aimed to motivate employees. It is hard to not crack a smile when looking at one. Handing out fun awards and prizes that are unique to your workplace is another option. At Pacific States Marine Fisheries Commission in Portland, the "Deadliest Commute" award goes to the person who has the hardest route, calculated by distance, topography, traffic, and the ability of the rider to take all necessary safety precautions. The prize for this year was a pint glass decorated with a bicycle and a bottle of Rogue's "Northwestern Ale" (formally known as the "Deadliest Ale"). Other awards included the "Greenhorn Award" (new rider), "Longest Haul" (longest commute), and the "Repeat Offender" award (new rider that logs at least one trip per week).
Get Involved with Your Bicycle Advocacy Organization
The Bicycle Transportation Alliance has spent over 20 years educating cyclists and advocating for safe access and acceptance on the roads and in the workplace. We can help direct your time and energy toward projects that you care about, whether it's slowing speeds in your neighborhood or improving street quality on your training route.
Your membership dollars support a professional staff of advocates whose job it is to ensure that you are safe wherever and whenever you choose to ride a bike. This is the work we, at the BTA, do as an organization everyday, and we invite you to join us. Find out more at www.btaoregon.org.
References
1. Determining the Intensity and Energy Expenditure During Commuter Cycling, B de Geus, S De Smet, J Nijs, R Meeusen; British Journal of Sports Medicine, 2007; 41:8-12
2. 2008 Physical Activity Guidelines for Americans, US Department of Health & Human Services
3. Walking, Cycling, and Obesity Rates in Europe, North America, and Australia, David R. Bassett, Jr., John Pucher, Ralph Buehler, Dixie L. Thompson, and Scott E. Crouter; Journal of Physical Activity and Health, 2008, 5, 795-814.
4. fietsberaad.nl/index.cfm?lang=en&repository=Cyclists+spend+as+much+in+supermarket+as+motorists
5. Pocket Guide to Transportation 2009, Research and Innovative Technology Administration/Bureau of Transportation Statistics
Margaux Mennesson directs communications at the Bicycle Transportation Alliance in Portland, Oregon.
You Might Also Like