The Truth About Cycling and Other Unmentionables
By Garrett Simmons
I got my driver's license back on May 19, 2011, five days before my 27th birthday. It came with the mail that morning while I was getting dressed to ride to work. Coastal Maine can still get cold in May. The lowest recorded temperature for that particular day is 37 degrees, the highest just 68. Winter in that region can be a difficult and even dangerous affair, a five- or six-month long battle against ruptured water pipes, dead vehicles, and enough snow to put every man, woman, and child with a shovel to work. The actual temperature as I walked to the end of my driveway was a balmy 51 degrees. It was an average, overcast spring day like any other. One thing made it different — after eight months without my license, I could legally drive again.
In September of the previous year I'd been pulled over while driving home from work and subsequently arrested for Operating Under the Influence (OUI). At my court appearance three weeks later, I plead guilty and turned over my driver's license along with a $600 dollar check for the trouble I was causing. I'm not a drunk — I say so, and the State of Maine says so — but at the time I was working as a bartender in a town made mostly of fisherman, construction workers, and other tourist industry people like me. I sat among them in court, waiting for my turn to stand. Almost all of us (between 20 and 30) faced OUI charges, and hardly anyone plead not guilty. I shouldn't have to say why — by Thanksgiving more than half the people in that room would be unemployed, the fishing boats out of the water, the weather too unpredictable for building, and the restaurants cut staff or close down altogether; you just don't throw away money fighting a case you can't win.
The road on which I was pulled over, US Route 1, extends 275 miles along the entire coast of Maine. Near cities like Portland and Bath it expands to two lanes going north and south, but the majority of it is made up of narrow single-lane road that runs straight through the middle of dozens of small towns like the one I lived in. At the height of summer, traffic on Route 1 is so congested it can take up to 45 minutes to drive the eight miles from my driveway to the restaurant where I worked. After Labor Day the right vehicle could make it in less than ten. On a bicycle it took me anywhere from twenty-five minutes to one hour, depending on the month and how much snow had fallen the night before.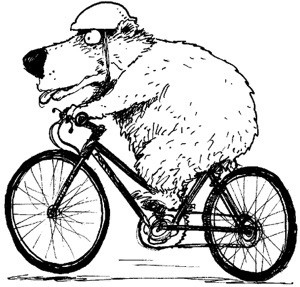 When something like an OUI goes on your record, you recognize the significance of the mistake in the reactions of people closest to you. The public's conception of OUI offenders is, of course, both accurate and grossly distorted. For every mumbling, stumbling, habitual drunk driver out joyriding there is someone like me, on their way home after a nine-hour shift, tired, hungry, driving a car with a blown taillight, and with a BAC of .10 — equally irresponsible, I'll be the first to admit. Only after explaining these events to my family did I understand how very little the details of my situation mattered.
It was because of this fact that I was determined to ride a bike. At least, that's how it seemed to me then. A combination of anger and self-righteousness kept me from doing things I could have done to help myself — finding a job that was closer to where I lived, or establishing a regular rideshare to the restaurant. Any change or adjustment from not having a license would've meant defeat. For reasons a person either understands or they don't, that just wasn't an option. Riding my bicycle became, in a way, an act of defiance. As winter bore down and the claustrophobia of small town existence settled in, as the newness of that place began wearing off, and the consequences of my arrest seemed to expand and evolve, I had given up more than I realized. I had placed my independence in someone else's hands. Riding my bicycle became a way of taking back my freedom.
The eight-mile section of Route 1 connecting home and work was not, as far as roads go, difficult riding. In either direction there are only a few gentle climbs, one of which overlooks Glen Cove, a postcard perfect inlet of the Penobscot Bay. Riding north to work in daylight, that sheltered slab of ocean was as beautiful as any I have seen in Maine. It never failed to catch my attention, and looking down at it I always felt like I was touring a much more distant part of the world. For at least that quarter-mile of road, I could easily have been anywhere.
The rest of my commute, however, was not so scenic. Over the course of that winter I memorized the location of and distance between every gas station, car dealership, plant nursery, steel workshop, hospital, mini-golf course, dingy oceanside motel and seafood restaurant there was on that coastline. I rode past the same fish truck parked in exactly the same spot on Route 1 more times than I could guess, and never once saw anyone pulled over buying anything. The man who owned it was always sitting in the driver's seat, the motor running so that he wouldn't freeze to death, I guess.
Around Halloween, gloves became an everyday necessity. By Thanksgiving I was buying clothes specifically to stay warm while riding — winter leggings, non-cotton shirts, a waterproof jacket, hats of varying styles and materials, and yet another, hopefully more effective pair of gloves. There was a point in December, following a week of dry, clear, cold but tolerable days, when I thought it would be all right. "I can keep doing this, no problem," I told myself. It was something I would repeat many times over those next long months, never totally convinced but saying it anyway; I quickly found out how badly I'd underestimated Northeastern winters.
For three weeks in late January and early February, daytime temperatures never once rose above freezing. At night, riding home, it was often below zero degrees outside, lower depending on winds snapping in off the Atlantic. My breath froze solid on my beard. My thumbs felt like they were being driven through by nails whenever I made it indoors after the ride, either opening the restaurant or standing shivering in my kitchen back home. I worked for tips in a town of less than 3,000 year-round residents. I stayed sick, and used my days off to try and write short stories. Often I passed the same police officer who had me perform sobriety tests in front of his headlights at 3 a.m., then placed me under arrest and delivered me handcuffed to jail. We made eye contact once or twice as I pedaled by him, parked discretely off the side of Route 1, but that was all. I thought vaguely and without excitement about yelling something or making some gesture at him, but of course I never did. Somehow I knew it would have broken my spirit completely.
The last thing required of me in order to get my license back was successful completion of the Maine Driver Education and Evaluation Program (DEEP). This is a weekend-long, eight-hour a day class, offered sporadically at a handful of cities throughout the state of Maine. I chose the one closest to me, about thirty miles up the coast, and rode there the first weekend in May. The class was everything you would expect it to be — alcohol-related statistics, lists of warning signs and early addiction behaviors, and videos made up of numbingly tragic footage. Completion of it depended on participation. Others were more vocal about their experiences. I volunteered my share of answers, but I didn't mention riding my bike in the snow. It was refreshing to know that nobody in that class cared at all what I'd done. The truth is most of them had lived through a great deal worse.
Garrett Simmons lived and worked in Maine's Midcoast region for one year. He wishes to express his gratitude to the people who still live there, for welcoming him into their community, and for giving him more stories than he could ever tell himself — he'll do his best. He is also a former intern at Bicycle Paper.