The Feed Zone
By Darren Dencklau
Eating properly is an integral part of staying healthy, and the demand that training for endurance events puts on the body requires eating the right food at the right time — usually containing ample carbohydrates and protein to both fuel for strenuous activity and aid in recovery. Recently, we received a copy of The Feed Zone: Fast and Flavorful Food for Athletes, by Dr. Allen Lim and Biju Thomas. Dr. Allen has worked with top-tier cyclists such as Levi Leipheimer and Christian Vande Velde, helping them with their highly regimented nutritional needs while avoiding the bland meals that are usually necessary to avoid any stomach issues, or having to rely heavily on energy bars and gels while in the saddle. I've perused the book's pages numerous times to get ideas on quick and tasty meals. So far I've been quite impressed.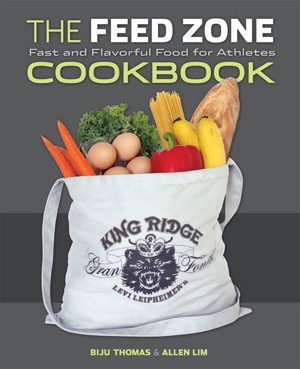 The Feed Zone contains 150 recipes; most of them can be made quickly and with minimal components. Dr. Allen proves that simple ingredients can be combined to make nutrient-rich and flavorful concoctions. The book covers all meals, from breakfast and lunch to snacks and dinner. Much of the fare is designed to be portable and eaten on the go or while riding.
Of the recipes I've tried so far, the Turkey Lettuce Wraps is one of my favorites. I tried it on an evening when I looked in the fridge and realized we had some ground turkey that needed to get eaten before it spoiled. A speedy ride to the store had me back in the kitchen with Romaine leaves in a matter of minutes. A quick browning of the turkey in a skillet and a manual stirring of peanut butter, olive oil, white vinegar, lime juice, raisins, and red pepper flakes (stuff that's usually always in our cupboards and fridge) made for a delicious homemade peanut sauce to accompany the wraps. Within 20 minutes my wife and I sat down to a refreshing, tasty, and healthy dinner.
There are also plenty of ideas for heartier meals with rich sauces such as meatball sliders, bacon potato cakes, and various stews. Desserts are also included, with ample suggestions on using seasonal fruits and healthier fillings and toppings. I really like the fact that there's a recipe for almost any type of food you may have lying around. It's nice to come home and not have to go back out to the store to find ingredients.
I look forward to trying many of the recipes in The Feed Zone, and have used some of the ideas to spruce up my usual breakfast oatmeal already. All of the pages are filled with great photos of the foods featured and the layout of the publication is clean and intuitive, meaning I open it more than some of the older recipe books handed down to me.
I highly recommend this hardback for those wanting to produce simple, mostly unprocessed meals that are straightforward and quick to create. The meals featured will fill a hungry belly on the go if you're trying to train for a race or even lose some weight — conversely, a number of the recipes are highly caloric and full of carbohydrates, and sometimes that's what the body needs.
MSRP is $24.95 but many websites offer them for as low as $14.95. Visit feedzonecookbook.com for more details.