United States Anti-Doping Agency Exposes Northwest Residents
By Joe Zauner
If anyone in the Northwest cycling community noticed the sentencing of convicted drug trafficker Joe Papp earlier this month, it wasn't overtly apparent. The Oregon Bicycle Racing Association (OBRA) and Washington State Bicycle Association (WSBA) listservs that sometimes generate more than 30 emails in a given day had nothing on the topic. But it's likely that more than a few local cyclists are monitoring the case with bated breath as it continues to unfold.
Papp, a former second-tier professional cyclist from Pittsburg, Penn., was convicted of selling performance enhancing drugs to mostly Masters cyclists, the 30-somethings and above who make up 76 percent of the sport's participants in the United States. He told Bicycle Paper that although the majority of his clients resided in New York and Southern California, there was no shortage of buyers in the Pacific Northwest.
From September 2006 to September 2007, Papp was the middleman for a Chinese pharmaceutical company that manufactured the blood booster EPO and human growth hormone (HGH), two of the most powerful performance enhancers endurance athletes can lay their hands on. Papp described his role in the operation as a "facilitator" and said he facilitated sales on the Internet to 187 customers grossing more than $80,000.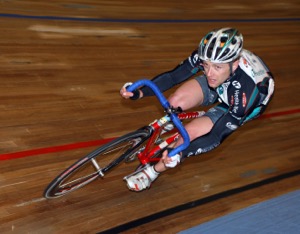 Photo by Greg Descantes
Kirk O'Bee on the velodrome.
On Oct. 21 he was sentenced in a U.S. District Court to three years probation, including six months home detention. His sentencing had been delayed several years while he helped the United States Anti-Doping Agency (USADA) build cases against his former clients. His plea agreement remains sealed and he said he can't comment in detail about the case, but he told Bicycle Paper that his client list included Masters cyclists from the three major metropolitan areas of the Pacific Northwest — Portland, Seattle and Vancouver, British Columbia. He added that he facilitated sales to cyclists in smaller Northwest towns as well.
"I think it's a lot more prevalent (doping in Masters cycling) than people have realized or are willing to admit up until now," Papp said. "My experience with the criminal activity I got up to gave me a fair insight into what was happening in different parts of the country. There just isn't a lot of Masters EPO doping going on in Peoria, Illinois."
So far, 12 people on his client list of 187 have been sanctioned but Papp said USADA isn't done yet. He believes there will be more sanctions as USADA continues to investigate and target-test those whose case portfolios lack the evidence required to win an arbitration panel decision. He said some of his clients were better at hiding their identities on the Internet than others.
Apparently, Eugene native and former national Junior champion, Phil Zajicek, 32, wasn't one of them. In June, Zajicek received a lifetime ban for a third doping offense and was fined $5,000 for, in part, lying to an American Arbitration Association panel and trying to convince others to do the same. Kirk O'Bee, a two-time U.S. national champion and North Vancouver, B.C., resident, who also received a lifetime ban in October 2010, was identified in his American Arbitration Association hearing as a Papp customer.