Book Review - Major Taylor: "The Fastest Bicycle Rider in the World"
By Garrett Simmons
In one of the final chapters of Andrew Ritchie's biography of bicycle racing legend Major Taylor, he cites four stanzas of a poem written by Taylor shortly after his retirement from the sport. The poem, though rudimentary in structure, is an earnest tribute to his "faithful friend," his bicycle, which from 1895 to 1910 carried him from rural Indiana to the height of international stardom and success, changing professional cycling in ways not even he could have predicted. In the decades that followed, Taylor's name would all but disappear from the general public's memory. His death, near penniless at the height of the Great Depression, would scarcely be mentioned in newspapers that had chronicled every race of his tremendous career.
One of eight children brought up during the late 1800's, Marshall Walter Taylor was born just north of the Kentucky state line, into a family of "free" African American farmers. Early on, beginning with an unlikely friendship at age eight, he was privy to a host of good luck that was not normal for the time. Taylor, in his autobiography titled "The Fastest Bicycle Rider in the World," described his introduction to the upper class world of bicycle racing as a "freak of fate." Ritchie does well in his depiction of the young Taylor's maneuverings throughout Indianapolis' social ranks, without ever undermining his character. It is clear that though Taylor was highly conscious of his limitations as an African American, he neither played them to his advantage, deceitfully, nor sacrificed his integrity as an individual. In fact, the humble manner with which he gained access to a white-dominated sport would become his trademark throughout the rest of his life, both professionally and personally.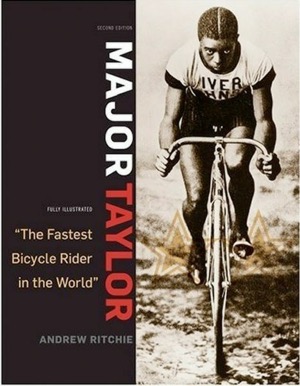 As one of only a few African Americans racing bicycles at the turn of the century, Taylor faced seemingly insurmountable obstacles. Even after setting seven world records in 1898, including the 1-mile, which would become his signature distance, he was subject to blatant acts of racism on the track. White competitors conspired to "pocket" him in, preventing any chance to break away and take the lead. Organizations such as the American Racing Cyclists Union drew "color lines" banning black membership, and in doing so often prevented Taylor from competing against top riders on the circuit. The bureaucratic power struggles that occurred between such groups were as dynamic as the races themselves, with Taylor standing at the center of them all.
Remarkably, he never once lashed out in retaliation. The most violent attack against him, an assault by fellow rider William Becker that left Taylor lying unconscious at a finish line in Taunton, Mass., produced no public response from him. Nor did it upset his season — Taylor appeared two days later at a race in Cleveland where he took first place in both the 1- and 2-mile events.
Ritchie chronicles this and every other instance of adversity with meticulous care, including with his own descriptions those of countless journalists who covered the events where they took place. At points, however, these authentic inserts become burdensome, slowing the story's progression. And a lack of quotations from Taylor himself, though no fault of Ritchie's, keeps him always just out of reach. Despite, or perhaps due to, his extremely public profile as an African American athlete, Taylor measured the impact of his words. Most came after his retirement, in the form of the autobiography from which this book takes its title, and bare the mark of self-preservation. His final season in 1910, performed for the sake of money as much as anything, he dismisses, suggesting records speak for themselves.
In truth, his was not a graceful end. The disappointing results of Major Taylor's last professional racing season are the singular blemish on his career. In this sense alone, Taylor is a statistic, an all too common example of the consuming nature of competitive sports. His public decline gives weight to fellow cyclist Arthur Zimmerman's cautionary message, given to a young Taylor entering his first season: "...when you have achieved all the success the racing game has to offer, then your enthusiasm will begin to wane and your star will begin to set."
The story of Major Taylor is important, however, not as a warning, but a celebration. It is a triumph, an inspiration. His legacy, which Ritchie's biography has proven beyond doubt, deserves to be upheld. Beyond the numerous records set and titles achieved, Taylor was an exemplary sportsman willing to fight against all odds. His most lasting statement on racing was made during the height of adversity, when every race was a one-against-all battle. "It is not always pleasant to have to push out in the lead, for though I am stronger than I ever was, still it tells on a rider at the finish and takes a whole lot of strength. But it cannot be helped, and it must be done if I want to win, and by that you see I ride the race from the crack of the pistol to the finish."
Major Taylor: "The Fastest Bicycle Rider in the World" by Andrew Ritchie. Cycle Publishing/Van der Plas Publications, 8.5 x 11"
hardcover, 208 pages with 100 duotone photographs. $39.95.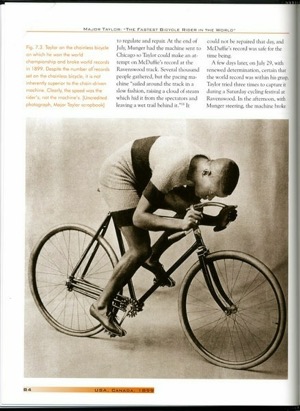 You Might Also Like