Hundreds of Activities Pack the National Bike Month Schedule
By Darren Dencklau
Some areas celebrate Bike to Work Day, others Bike to Work Week (May 11–15), and for the truly dedicated, Bike to Work Month. However long you choose to rejoice, now is the moment to take pride in being a bicyclist and join this nationally recognized annual event. Throughout the Northwest, cities and cycling clubs will be featuring activities of all sorts — from clinics and educational seminars, to rides and festivities for commuters of all ages. On Friday, May 15, the country's official Bike to Work Day, celebration stations will be set up to welcome and count participants, offer them snacks, drinks, maps and other free giveaways. Some stations will also offer bike safety checks.
Most areas have commuter challenges that encourage employees to ride their bikes to and from work with hope of creating a new pattern of driving less and riding more. The friendly competition has businesses battling each other for bragging rights in various categories, including the company with the largest number of cyclo-commuters.
Here are just a few events scheduled in different areas around the Northwest. Check your local club and municipality listings to find out more.
Bellingham
Bellingham, Wash., is taking a head start in this year's Bike to Work festivities with events that officially began back in April. May's highlights include a "Women Only Bike Maintenance Class" on May 5, at the Hub Community Bike Shop. The class will cover subjects like basic maintenance, flat tire repair and troubleshooting, and explain how a bike operates and functions.
On Wednesday, May 6, a "First Gear Bicycle Class" will take place at the Community Food Coop Connection Building. This three-part class is geared toward building rider confidence and will offer safe traveling tips like proper hand signals, communicating with drivers and other cyclists, and road positioning.
Also on May 6, Bellingham's "Bike to Work and School Day Planning Meeting" takes place at the public library's meeting room beginning at 6:30 p.m. Attendees are encouraged to help design Whatcom County's Bike to Work future festivities. Contact Mary Anderson or Ellen Barton at 360-671-2453 or e-mail
info@everybodybike.com for more information.
On Saturday, May 9, there's a "Bicycle Scavenger Hunt and Pedal with your Politician" event. The scavenger hunt starts at 10 a.m. at the Bellingham YMCA and will be followed by the politician ride at noon. Departing from Depot Market Square, this will be a good opportunity to talk about future improvements for cycling in the area.
The Ski to Sea Community 5km Fun Run & Bike Ride — going from Lake Padden to the Fairhaven Village Green via the Interurban Trail — takes place on Sunday. The event benefits the Whatcom Physical Activity and Nutrition Coalition. Contact Cori Kauk at 360-778-7000 or e-mail ckauk@cob.org for details. You can register online at www.cob.org/ezreg.
Celebrate Bellingham's 12th Anniversary of Bike to Work and School Day on Friday, May 15, when more than 30 commuter stations will be set up throughout Whatcom County, with volunteers serving refreshments and giving away various other gifts. That same evening, beginning at 5 p.m., show your "I biked" sticker and get free entry into Boundary Bay Brewery for live music, drawings and other fun stuff.
For more information on all of Whatcom County's events visit www.everybodybike.com.
Spokane
There are many events to choose from during Spokane's Bike to Work Week. Here are just a few highlights:
Sunday, May 10 — from 11 a.m. to 4 p.m: Bike Education Fair at Riverpark Square. There will be tables with bike-related information (rides, clubs, safety and more).
Monday, May 11 — from 7–9 a.m.: Kickoff Breakfast at Riverfront Park offering free pancakes, coffee, and prizes intertwined with short speeches and a large "group photo."
Wednesday, May 13: Walk & Roll to School Day at participating Spokane Public Schools. Also that day, starting at 7:45 a.m., Spokane Bicycle Club will be leading a 4-mile guided commuter ride from Audubon Park to downtown.
Friday, May 15 — from 4:30–6:30 p.m.: After-work Wrap-up Party at Steam Plant Grill.
When you register for Bike to Work Week it automatically qualifies you for the individual commuter challenge. You can also enter a team and compete for fame and glory or simply ride and contribute to the 2009 collective goal of 25,000 ridden miles during one week.
For complete information on Spokane activities visit www.biketoworkspokane.org.
Snohomish County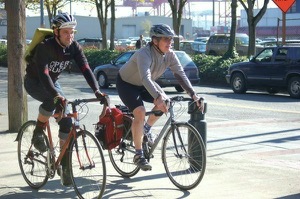 Photo by Bicycle Paper
There is no such things as perfect commuting gear, ride wearing what you like and get some fresh air before work.
On Bike to Work Day, volunteers at numerous celebration stations will be serving up refreshments to all cyclists, walkers, skateboarders and others who stop by Maryville's Comeford Park, University of Washington-Bothell, Everett Station, Edmonds Ferry, Boeing Everett and McCollum Park, among other locations. Stations will be open from 6-9 a.m. Around 7:30 a.m., elected officials will be joining in for "Celebration Rides."
Snohomish County also celebrates "Group Health's Commuter Challenge" from May 11-June 12, in an effort to promote a healthy commuting habit. Participants are encouraged to get as many co-workers involved as they can to earn biking socks or a pizza party for their place of employment. Team captains receive a Snohomish County Bike to Work cycling cap.
Visit www.communitytransit.org for a more complete schedule or call Mark Melnyk at 425-348-2304 or e-mail mark.melnyk@commtrans.org for further information.
Pierce County
The County will be featuring several events throughout the month. Highlights include a Kid's Safety Fair and Helmet Sale on May 2, a bike swap at University of Puget Sound from noon to 5 p.m. on May 9, and a Wheelmen Bike Rodeo and Ride at University Place. On Wednesday, May 13, REI will host a bike maintenance clinic.
The Pierce County Commuter Challenge is May 11–15. Sign up as either a team or individually and be qualified for prizes that include a $100 and $200 gift certificate from REI, free bike tune-ups, bike lights and more. Sign up at www.piercetrips.com.
The month's activities continue with Tacoma Wheelmen's Club's Big Wheel Bicycle Ride on Saturday, May 16. REI will host a "Bike Commuting 101" clinic on May 19. On May 21, you won't want to miss Zeit Bike Spoke Tales at the Tacoma Art Museum. Finally, on Saturday, May 30, there will be a "Family Ride with City Council" beginning at 10 a.m. at Tacoma Bike Shop.
Idaho
Boise Bike Week is set for May 10–16. Events kick off on Sunday with "Think Globally, Bike Locally," a showing of two bike-related films at The Flicks Movie Theater. "Ayamye" is the first film, which documents an Idaho non-profit's effort to donate bicycles to African citizens. The second film, "Return of the Scorcher," takes a look at bike culture around the world and includes great footage of cyclists in China, the Netherlands and elsewhere.
On Monday, May 11, the kickoff celebration begins at 7:30 a.m. at City Hall Plaza. Later that evening there will be a "Twilight Mardi Gras Ride" and a bike maintenance clinic. Other highlights for Boise Bike Week include a women's road ride on Wednesday, May 13, a "Bicycle Block Party" on Thursday, a Recumbent Rally and a Mountain Biking Introduction and Skills Ride sponsored by SWIMBA on Friday, and the "Pedal Power Parade and Finale" on Saturday. For complete information on events in the Boise area visit www.boisebikeweek.org.
Oregon's Walk + Bike to
School Challenge
Although the state celebrates Bike to Work in September, this month-long school competition is running concurrently with the National Bike to Work Month in May. Students of all ages, from preschoolers to college enrollees, can enter the challenge. Preschool, primary and secondary school participants can walk, bike or use other active means of transportation, while older students must commute by bike only. College commuters can register individually and track their trips online at www.biketocampus.org while schools can enter their teams at www.walknbike.org. The event culminates in June with the Walk + Bike to Baseball celebration at PGE Park, where event participants and overall winners will be recognized on the field.
For more information visit the Bicycle Transportation Alliance website at www.bta4bikes.org.
You Might Also Like